Martin Antonini was born in Saskatchewan and now resides in Calgary. He has studied at the University of Calgary and University of Regina and also studied with various artist groups. Martin works mainly with pencil, oil and acrylic. He is a gifted artist who creates wildlife, portraits and landscapes. Martin has won many awards including Best of Show Miniature painting at the 2001 Essential Art show in Calgary and has been a frequent participant in the Calgary Stampede Western Art Auction Quickdraw events. He is represented by the Highwood Art Gallery in High River, Alberta.
Roger D. Arndt's hallmark scenes of towering Rocky Mountains, western forests, Pacific shores and gardens have captured the attention of fine art collectors worldwide. Roger Arndt's work is distinguished by a luminous and mystical quality that stirs inspiration in all who see his work.
Roger D. Arndt began to see the world through an artistic eye at the age of twelve, when he set out on his journey into the world of fine art. In the early 1970's, at the age of fourteen, Roger became inspired by the art of Loren D. Adams, Jr., a well-known seascape artist who was working out of Vancouver's Granville Island district. Roger became an apprentice to Adams. Through careful observation and Adam's mentoring, Roger nurtured his own talent. He learned how to put paint on canvas, and express his vision through his brushes.
In those early years, the artist focused mainly on seascapes while his talent blossomed and grew. In his late teen years, Arndt discovered his love for the Rocky Mountains. Roger Arndt was moved by the power and majesty of the mountains. His soul inspired, he began to paint these vast and glorious monuments. He also become fascinated with west coast Haida totems. He wanted to add structure to his paintings, and after studying the history of totems at the University of British Columbia, he began to incorporate them into his ocean paintings.
www.rogerarndt.com
Keith Andrews is a visual artist living in Calgary, Alberta. His inspiration is the majestic scenery of the Canadian Rockies, teeming with wildlife year-round. His spark of creativity was kindled by his parents, who gave Keith "The Art of Robert Bateman" in the mid-80's. "I must have spent hundreds of hours combing through that book. I knew it was my true calling." Keith spent most of his early years imitating the work but never finding his own voice. "I felt like I was copying someone else's style. I knew what I wanted to say, but not how to say it".
In 2006, Keith met renowned artist Terry Isaac (himself a former Bateman apprentice) and found a guide who encouraged him to strike out down a more personal path to find his own unique style. Keith discovered the beauty and simplicity of Black and White. The minimalist feel and the mood it created compelled him, and he poured himself into further learning and practice in this new direction.
Having found that voice, in 2014 he turned to painting professionally. Terry Isaac has stated of Keith's work "His detail is breathtaking, up close and personal."
www.keithandrews.art
As a small child, he spent endless hours wandering through the woods behind his out-of town business at Cold Lake, Alberta. Axani has always been captivated by the simple aspects of nature. The way the light sparkles from a drop of water on a leaf, or the amazing autumn colors shown by forests and shrubs even in northern Alberta. As the ultimate paradox, he is trained and employed as a Professional Engineer, working in the left-brained world of oil and gas. Occasional travel to the Alberta and Saskatchewan countryside has continued to captivate his mind. Axani always travels with a camera and stop to take photographs often, when an image moves him. His training and interest in art started in university when he obtained special permission from the dean of engineering to take a full-year pre-requisite course for fine arts as his humanities option (the only request for this type of course they ever had). This whetted his appetite to do more exploring in the fine arts. Late 1986, he decided to try to experience painting again. Axani studied under Jack Rigaux for several years into the early 1990s. Later he started studying under Karen Swearengen, where he continues today. His work is on display in Residences in both Canada and the United States. Several corporations have purchased one or more pieces for their collections.
www.artincanada.com
Barbara Ballachey was born in 1949 in Edmonton, Alberta, she spent a summer studying at the Banff school of fine arts, and that same year went to Montreal to begin studies first at McGill University and then at Ecole Des Beaux Arts. Ballachey completed a Bachelor of Fine Arts degree at the University of Calgary in 1978.
Early in her career, Ballachey's primary interest was in abstract painting. When she later moved to painting landscapes, Ballachey continued to incorporate elements of abstract painting into her work.
Ballachey participated in many artists' workshops at Emma Lake, Saskatchewan, beginning in 1979 and stretching over the following two and a half decades. Other experiences in outdoor painting include a trip that Ballachey took with Catherine McAvity and Rebecca Perehudoff in 1989, when the three traveled through southwest Alberta, painting works for what would become a joint exhibition.
Ballachey has also instructed painting at the University of Lethbridge and the Kenderdine Campus of the University of Saskatchewan in Saskatoon.
Ballachey, in describing her passion for work, says, "I paint because I feel more alive when I do than when I don't. From tiny sketches to larger more complex works, there is always the possibility of magic. Paintings are fascinating to make and look at. The process involves endless decisions, starting with the choice of specific media and scale and subject. Then there is the anxiety and delight of putting down colors and marks and shapes, of sensing when they work and pushing further until they do! Always there is discovery – things are revealed and challenges made."
Ballachey's work is represented in many public, private and corporate collections, including the Alberta Art Foundation, Edmonton Art Gallery, Canada Council Art Bank, Glenbow Museum (Alberta), University of Calgary, Bank of Montreal and Air Canada.
Barbara Ballachey lives in Calgary, Alberta
Distinct use of light, soft edges, combined with capturing a mood, an emotion, or a moment in time are some of the qualities that distinguish the art of Maurade Baynton.
While focusing her artistic energy on animals and people interacting, she tells a story through her own personal experiences with her subjects. Originating from mutual fascination, the first encounter between child and animal often leads to shared friendship and trust.
Maurade's artistic talent was discovered at an early age. She received a summer scholarship to the Banff School of Fine Arts in 1970, and has continued to develop her talent since that time. Her primary medium is in oil, which her junior high school teacher encouraged her to try in 1968.
Wildlife has been the dominant focus of Maurade's canvasses since 1984. Having many successful solo shows, Maurade's work's hang in many private and corporate collections across Canada and the United States. Over the past few years Maurade has been experimenting with other mediums such as acrylics and watercolor and finds each have their own advantages and disadvantages. However oils remain her favorite.
Maurade paints full-time in her Sherwood Park Alberta studio and travels extensively in search of subject matter. She has enjoyed a long and successful career painting animals, both domestic and wild and has recently returned to her first love, children and pets.
"My passion is to continue portraying that unique bond that children have with the animal world. My goal is to capture that fleeting moment of innocence before they grow into adulthood."
www.mauradebaynton.com
Don Begg, together with his wife Shirley, run Studio West Ltd. Born in Cochrane, Alberta, Don studied sculpture and bronze casting in Alberta, New York and California. Don's bronze sculptures depicting wildlife, historic figures, western scenes and the oil and gas industry have received awards and high recognition in Canada and the US.
Some of the more than 20 statues cast at Studio West include: Wayne Gretzky, 12 foot tall Sitting Eagle, Brigadier General Andrew Hamilton Gault, Lester B. Pearson, John Diefenbaker and the Bullwhacker.
www.donbeggstudiowest.ca
Rick is a self-taught artist working mainly in oils, originally from Red Deer, Alberta and now based in Calgary. His work is clearly influenced by the special light, landscapes and wildlife found between the prairies and mountains.
His work has been included in Government Travelling Exhibits, One Man, and Group Shows in Canada and the United States, with purchases by the Government of Alberta, Major Corporations, and Private Collectors. He is a frequent contributor to auctions, stamp and poster projects in support of organizations such as Trout Unlimited, Rocky Mountain Elk Foundation, Federation of Fly Fisherman, and the Bull Trout Task Force.
His painting have served as covers for sport equipment catalogues, and magazines such as Alberta Hunting and Fishing, and Rural Montana.
Long known as a skilled portrayer of wildlife, Rick's more recent work has shown an increasing sensitivity to light and color as subjects in themselves, often expressed in the urban environment of houses, gardens, city parks, and golf courses.
Rick's 25-year struggle to develop himself as a painter has made him very sensitive to the needs of students, and since 1989 he has dedicated part of every year to bring this experience to classes throughout Alberta and Saskatchewan.
NICHOLAS J. BOTT was born in the Netherlands in 1941. At an early age he was inspired by the works of the Dutch Masters. He settled in Canada in the late 1950s and fell in love with the landscape in and around Smithers, British Columbia where he was then residing. He spends many days on remote mountain slopes, some locations accessible only by helicopter.
The Netherlands has produced many artists of renown and Bott is no exception. He studied art at the University of British Columbia and holds a diploma from the Chicago School of Art. Inspired by the loose style of Vincent Van Gogh and the Canadian Group of Seven, blending his traditional European values with contemporary developments of the new world, his paintings have evolved continuously to the impressionistic style of his current work. The simplified shapes in the landscapes are filled with vibrant colour. The brushwork literally radiates with energy of the forces of nature.
"Bott's works reveal not only an ever-growing confidence with the medium, but a growing sense of lyricism and visual poetry in the interpretation of his various subjects. His paintings show spontaneity and sureness of hand commensurate with his ability to distill and transform landscape and rural motifs into refined
1920-2014
As a missionary in the Canadian North, Bern Will Brown has encountered many interesting people. He kept copious notes of their stories and now he has released a book - Free Spirits: Portraits from the North - filled with a series of fascinating tales about murder and revenge, adventure and misadventure, faith and love.
These lively tales - by turns tragic, humorous and heart-warming - involve some of the most unforgettable characters Brown met or heard about over the years, including priests and trappers, dreamers and rascals, sailors and traders, artists and adventurers.
The former Oblate priest got the stories by talking with these characters. In most cases he made notes of his interactions after he got home. "Their stories are part of our Canadian history and offer a glimpse of life in this remote and rugged area of our land, the far North," he said.
Brown, a successful painter, pilot and author, is as fascinating as the characters he writes about. He was born in Rochester, N.Y., in 1920. From a young age, adventure and the North fascinated him. After being ordained an Oblate priest in 1948, he was sent to the frigid Canadian North. His brother Thomas also joined the Oblates because he wanted to live in the Canadian North.
n the 1960s, he built the first mission in the community of Colville Lake, N.W.T., where he learned to speak the local aboriginal language. Chief Alvin Orlias of Colville Lake​ says Brown became one of the people.
"He really adapted to the aboriginal way of life when he first came up here," he said. "He learned how to run dogs. He learned from the people how to survive in the bush."
Throughout his life, Brown also documented northern life through his paintings, and in photographs and videos. In the 1950s, he published a monthly newspaper in Aklavik, N.W.T. A collection of the papers was published in 1996 as the Aklavik Journal.
He also wrote books including Arctic Journal, Arctic Journal II, and Free Spirits. His most recent book, End-of-Earth People: The Arctic Sahtu Dene, was published in March.
N.W.T. Premier Bob McLeod called Brown "a true Renaissance Man."
"He had amazing recollection of detail, of life in the North, and I think that you don't get too many personalities like that," he said. "He added a lot of color to the North, and he will be missed."
After earning a Bachelor of Fine Arts degree from the University of Alberta, Burnett has spent the last decade exhibiting her work and establishing an international reputation. Selected by Ducks unlimited Canada as a National Supplemental Artist in 1995 and 96', her painting Spring Pond – Gadwalls, became a Wildlife habitat Canada's 1997 Federal Duck Stamp. A successful participant I the Christies 1996 Wildlife art Auction in London, England, Burnett's work has been exhibited at the prestigious Leigh Yawkey Woodson Art Museum.
In 2004, her creation-of four different designs highlighting the life stages of Canada's Grizzly Bear-was unveiled as the Royal Canadian Mint's platinum proof coin. Just six years earlier, she also enjoyed this distinction for her exceptional coin set design featuring the magnificent Gray Wolf. Burnett is an elected member of the renowned Society of Animal Artists in New York.
John H. Burrow is an artist living in the beautiful Shuswap Lake area of British Columbia, Canada. He shares his love of nature with others through his work. John's oil paintings are always bright, full of colour and imbued with a sense of joy and playfulness. When people see his oil paintings for the first time, they frequently comment about how good his work makes them feel.
John's past experience in the field of commercial art has given him the versatility to paint different genres. At a time when most artists attempt to get "branded" and paint in only one recognizable style, John is a renegade. He enjoys being able to express his warm memories of growing up in a small town using a folk art style. But when he wants to capture the beauty of an old farmhouse surrounded by a luxuriant garden, he chooses to use a more impressionistic technique. The Canadian landscape and the Group of Seven are also a source of inspiration for John. He can be frequently found painting in "plein air" working in a freer and fluid, "painterly" style.
John's work is in collections all over the world. He accepts commissions and also conducts workshops for groups of aspiring artists.
John H Burrow is a member of BC. Plein Air, Canadian Plein Air Painters, The California Art Club, My Art Club, Laguna Plein Air Painters Association, and The Shuswap Artists Group.
www.burrowfineart.com
David Cadman was born and raised in Calgary and studied at the Alberta College of Art and Design, where he later earned a degree in Bachelor of Design. He worked as a graphic designer for forty years. Since his retirement in 2010, he has been able to pursue his painting career on a full time basis.
David is a juried member of Canadian Society of Painters in Water Colour, Alberta Society of Artists, and the Calgary Contemporary Arts Society.
David took art lessons at the Coste House at an early age and was fortunate to have a father who owned an art supply store. This allowed for access to unlimited art supplies and to be involved in the local art environment early on.
"I like to paint using watercolour and acrylic. My impressionistic landscapes and abstracts are drawn from images and ideas from my travels and outdoor activities. Recently my paintings have evolved towards a more abstract direction with an emphasis on pattern and rhythm. I try to give my paintings strong contrast and use a colour sense to release a vibrant and emotional image."
"I paint anything that inspires me. My art expresses movement and mood using both planned and spontaneous use of colour and space. I like working in watercolour because its fluid nature lends itself to both quick brush strokes and to subtle and layered applications."
Fred is a lifetime resident of British Columbia, and travels extensively throughout BC and Alberta to capture the beauty and magnitude of the varied landscapes and wildlife. His subjects are vastly varied - from mountains to gardens, still life to nudes and wildlife. Early in his career he was greatly influenced by many of the old and modern day impressionists. In recent years he has become an avid follower of American impressionists. His greatest influence and inspiration has been received from William Reese, one of the greatest impressionists in the United States, and with whom he has studied. Fred also considers himself fortunate to have studied with other elite artists including Ned Jacob of Maine and Russian artist Ovanes Berberian. Fred is an accomplished oil painter, who also works with pastel. As a sculptor, Fred has created several limited edition bronzes. Fred's oil paintings are richly coloured and beautifully textured with energetic brushstrokes. His paintings come from his heart, and show the artists passion for his subjects. His favorite place to paint is plein air.
Bryan Chubb was born in Edmonton, Alberta and grew up in small towns in Alberta and British Columbia. Began painting in the early 1970's and in 1975 left a position as graphic artist/cartographer with the Canadian Wildlife Services to paint full time. That was soon followed by a solo exhibition at the Edmonton Art Gallery (now Art Gallery of Alberta). Through based in the Edmonton area for 30 years, has traveled and painted throughout the western Canada, and occasionally beyond. In 1999, moved to Cariboo Region of BC where he has a home and studio close to lakes, mountains, forests, and streams.
www.bryanchubb.ca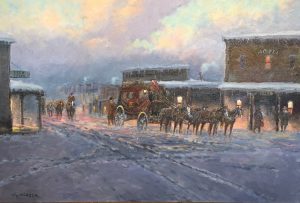 Clifton Roy Cheek was born in Kentucky in 1937. He developed an early interest in art and won his first award when he was twelve years old. Because he was keenly interested in the tradition of pioneer and Indian life in the Old West, he moved to the Fort Peck Indian Reserve in Montana. Mr. Cheek honed his artistic skills through hands-on experience, exposure to the Native environment of the Sioux-Assiniboine nation and the rigors of ranching.
His early works consisted of pen and ink drawings, watercolors and oil paintings. In 1978, Mr. Cheek developed a keen interest in sculpting. Included among his sculpting media are clay, wax, wood and polyform. These models form the basis for limited editions figures cast in bronze. Mr. Cheek's bronzes have been awarded both national and international acclaim and rest in the corporate offices and the private homes in England and the Orient as well as the United States.
Painting in oils and pastels, Dorothy's large studio paintings and colorful plein air sketches convey her feelings for the outdoors, whether in Canada or abroad. She has studied with prominent artists in Western Canada and the Maritimes, the U.S.A., Scotland, England and France. In painting the landscape, she attempts to convey a sense of place in her work and reproduce the beauty of each season.
A Scottish born Canadian, she has lived in Calgary since 1970. She is a former director of both the Society of Canadian Artists and the Leighton Art Centre, Calgary, an active member of the Federation of Canadian Artists, Vancouver, a member of the Oil Painters of America, Pastel Artists Canada and the Visual Arts Association of Alberta. She has served as a Juror for the SCA 2012 exhibition at the Halifax Club and the Leighton Art Centre's 2013 Juried Members' Exhibition.
www.dorothychisolm.com
Jay Contway is a man totally involved with his art. It is simply – his life. Jay is a native Montana artist who raises working Quarter Horses. He spent time on the rodeo circuit and his knowledge and respect for the working cowboy shows clearly in his art. Appreciation for the history, his own native ancestry and the people and animals of the west he loves is illustrated in his work. The horses and the equipment used by Cowboys and Native Americans have changed greatly over the years. Jay considers attention to historical detail very important. He knows first-hand the trappings, saddles, bridles, animals and action that you see in his work. Jay was born in Malta, in eastern Montana and was raised in the ranching area. His ancestry includes Native American, French and Irish. He attended Northern Montana College in Havre, and the College of Great Falls. Jay's home, just outside Great Falls, Montana, is another extension of his appreciation for art. The self-designed Spanish-style adobe is modeled after ancient pueblos and filled with paintings and sculpture from other well-known artists. Jay's commitment to the quality of his art includes his own foundry, adjacent to his studio, where all Jay Contway sculptures are cast. This enables him to oversee the many details of each bronze he creates. All sculptures are limited in number and cast only in bronze or silver. Jay does not sell the original models.
Canadian [1932-1985]
Rick Grandmaison was born in Calgary in 1932, the eldest of five children of Russian immigrants Nicholas de Grandmaison [1892-1978], an artist well known for his First Nations portraits, and Sonia (Orest Dournovo) de Grandmaison [1912-2000], a talented sculptor in her own right. Rick Grandmaison studied at the Banff School of Fine Arts, the Winnipeg School of Art, and the Chelsea Art School in London, England. Additionally, he received instruction and encouragement from his father, particularly in his formative years.
In 1957, Rick Grandmaison travelled to England, Portugal and Spain. In 1958, one of his paintings was notably presented to U.S. President Dwight D. Eisenhower. In 1963, he returned to study and work in England. During his career, Rick Grandmaison was featured in numerous one man shows in galleries across Western Canada. His work hangs in many public and private collections around the world.
Rick Grandmaison painted en plein air (or "on the scene") wherever possible, inspired by the desire to capture a fleeting moment of light. His impressionistic landscapes evoke memories of the Old West, while embodying a lightness in brushwork, colour, and mood. Grandmaison said of his work: "My mandate for painting in oils has been to record in this infinite medium the colour, mood and motion of the Canadian landscape. Subject is really incidental to the expression of my ideas about it.
Since 1983 Mr. Dubé has been painting with different mediums including watercolour, oil and acrylic. He paints the gammut from realism, to impressionism, his favorite being surrealism.
Most recently he has had great success with the development of his own acrylic technique which is spreading rapidly across Canada, the United States, Mexico and Europe. Dubé's use of bold color, active line, and fluid movement draws the viewer into his abstract subjects, where on closer look they will discover a multitude of hidden images that have made their way from subconsious to canvas.
Mr. Dubé's rather extensive body of work and long career as an artist, makes him well known and highly collectable around the globe. He has worked with such artists as Jean Paul Riopelle, Chris MacClure, Paul Ygartua, Brent Heighton, Fernando Tames and John Einerssen.
For Dubé it's as though ''the paint runs through his veins ''. He has dedicated his life to exploration of 4th dimension through paint and the quality of uniqueness. Dubé believes that Painting and Sculpture are the only forms of fine art you can collect in a single sample.
www.sergedube.com
Allan Dunfield was born in Vancouver, British Columbia in 1950. His family moved to New York where he graduated in 1969 with an Art Major. Allan was accepted to the School of Visual Arts in New York City where he studied for two years.
For most of his life Allan has been painting – professionally for over 20 years, and his art is held in many corporate and private collections throughout North America. He is an active member of the Federation of Canadian Artist.
Allan lives on Vancouver Island and paints daily in his studio. His art often captures the majestic landscapes of the Pacific Westcoast on which he lives. Art for Allan is a means through which to communicate to his audience, by interpreting the vast complexities of British Columbia's coast and mountains. It brings Allan great joy to share the beauty of BC's scenery with his audience, and offer an opportunity for them to step with him outside an otherwise chaotic world into a moment of tranquility captured on the coast of British Columbia.
www.allandunfield.com
Jonn Einerssen's original oil paintings are distinguished by a harmonious play of light and colour. His bold and realistic works are inspired by the raw, uncontrolled power of nature, and wide open spaces of the oceans and prairies.
Although worlds apart, Jonn's love for both the sea and prairies is inspired by his life experiences. Born in 1949 and raised on the western prairie, Jonn grew up surrounded by golden wheat fields, and views of grain elevators rising out of the horizon into the big, western sky. It was those impressions that Jonn would first put to canvas.
Upon moving to the West Coast of British Columbia, Jonn gravitated to the ocean, which he found had an affinity with the prairies. Wide open spaces, as far as the eye could see, provided limitless potential for experiencing nature in all its glory. Mesmerized by its raw power, Jonn went on to paint the rhythms and moods of the sea with a remarkable authenticity. Jonn's hallmark seascapes often include the image of a sunlit wave, captured in a hypnotic, frenzied dance, revealing a fleeting moment in the ebb and flow of time.
www.einerrsen.com
Bruno Engler, mountaineer (b at Switzerland, 4 Dec 1915; d at Banff, Alta, 23 Mar 2001).
Bruno Engler, mountaineer (b at Switzerland, 4 Dec 1915; d at Banff, Alta, 23 Mar 2001). In his rich and varied life, Bruno Engler was a fine skier and ski instructor, a pioneer in avalanche safety, mountain climber and guide, photographer, filmmaker, actor, exquisite storyteller and ambassador for Canadian mountain culture. He was, in a sense, the complete renaissance mountain man.
Bruno Engler, like other Swiss Guides that shaped early MOUNTAINEERING in Canada, was born in Switzerland. Engler was trained, as a young man, in mountaineering, guiding and photography. His interest and training in mountaineering, photography and skiing placed him in an enviable position when he arrived in Canada in 1939. The Swiss Guides were not trained skiers, Sunshine Village was developing its ski program, and Engler was hired to build up the Sunshine Village ski school near Banff. Engler was also offered a position with Swiss Guides (Ernest Feuz & Rudolf Aemmer) at Lake Louise. Engler came to Canada in WWII and he was subsequently sought after by the Canadian military for his mountain skills. He trained many Canadian troops.
Engler was much more the bon vivant than the more staid Swiss Guides, and much of his life went from one dramatic episode to another. Engler led several climbs with such well-known early mountaineers as Tony Cromwell, Frank Smythe and Georgia Englehard. Mountaineering was not a full-time job in the post-WWII years, however, and Engler had to cast about for other work. He found a job in Blairmore (Alberta) at a strip mine, and lived in the area for four years. It was also during this time that Engler climbed many of the mountains in the Crowsnest Pass area with Fritz Frei, and he assisted in creating a ski area in the Pass.
The post-WWII boom of the 1950s to 1970s tapped into Engler's many gifts and talents. Engler was in demand as a mountain guide and ski instructor, his black-and-white mountain photography was selling well, his work at Rogers Pass on avalanches placed him at the forefront of mountain safety, and the movie industry was drawn to his charming looks and photogenic poses. Engler became a freelance correspondent for the CBC in the 1950s, he started "Alpine Films" during the same period, and his life as a filmmaker dominated the next few decades of his life. In fact, Engler was involved in making over 25 films between 1950 and 1980. The CBC did a feature on Engler's life in the 1960s called Diary of a Mountain Man, and in 1966 Engler initiated the "Veterans' Race" at Sunshine Village. Engler had become a legend in the mountain community, and he and Hans GMOSER led Prime Minister Trudeau to the Bugaboos in 1972.
Engler's commitment to mountain culture was rewarded with a variety of accolades which included, to name but a few: the Alberta Achievement Award for Excellence, the Premier Cup for Photography and Mountaineering and the distinguished Rose Award. Engler was made an honorary member of the Association of Canadian Mountain Guides in 1975
Graham Flatt is a western artist whose images reflect his passion for painting. Primarily self-taught in the areas of design and composition, Flatt has attended a variety of watercolor workshops over the years. His dedication to painting has allowed him to experience many influences, which has ultimately resulted in his signature style of painting. Flatt is a very bold, direct painter with an emphasis on strong design elements. Working with a limited palette, Flatt maintains a delicate balance between passion and design.
Graham was awarded the Ralph "Tuffy" Berg Award for the Best New Artist at the 2000 C. M. Russell Auction of Original Western Art in Great Falls, Montana. Flatt is the only international winner of this award in its 38 year history. His design for a 3/4 life size buffalo was chosen as one of only 24 for a C.M. Russell museum fundraising effort. Flatt has gone on to win numerous other awards including "Best of Show" and "People's Choice" in both Canada and the U.S.
Flatt has quickly emerged as one of Canada's top western watercolorist with numerous sold out shows throughout Canada and the United States. Recently, Graham has added acrylic painting to his repertoire and has begun exploring chalk pastels in conjunction with his dynamic watercolors.
His enthusiastic approach to watercolor and instruction has made Graham a sought after workshop instructor and lecturer in both Canada and the United States.
Flatt is currently represented by galleries in Alberta Canada, Wyoming and Montana
Dean Francis and wife Fran reside near the South Saskatchewan River, 12 miles east of Empress, Alberta, surrounded by the land and wildlife that inspire his art. Dean began painting full time in 1978.
In 1996 he & Fran began developing Sagebrush Studios, a Home/Studio set within 20 acres of Landscaped Prairie. This has grown to include 3 old restored churches: one seasonal gallery in 2001, one working studio in 2006, and another gallery completed in 2009. Each spring since 2001, around 500 guests attend the annual open house/artist reception, to enjoy all the new paintings which fill the three churches. With ever changing Gardens and Water Features, visitors are provided with a unique experience of Art and Nature. Dean's website was established in 2002.
Dean spends as much time as possible outdoors observing, photographing, and recording life studies for his landscape and wildlife reference material. This understanding of the land is reflected in his paintings, using a rich array of color, form and texture. He has become a well known landscape and wildlife artist, known for capturing in 'oil on canvas', the light, diversity, and beauty of the Western Canadian Prairies.
Dean has been showing in solo and group shows for 30 years, with numerous Galleries and Art Shows in Saskatchewan: Saskatoon, Kindersley, Regina; Alberta: Lacombe, Calgary, Banff, Medicine Hat; U.S.A.: Bozeman-Montana, Great Falls-Montana, Jackson-Wyoming, and has attended a booth at the Calgary Stampede Western Art Sales Salon, each year since 2000. He has done many private commissions, public murals and Dioramas for the Royal Saskatchewan Museum in Regina. A recipient of numerous recognitions, newspaper and magazine articles, Dean was also featured in Nov. of 2007 on the Regina based 'Prairie Farm Report' TV show. His paintings are enjoyed in both Public, Corporate and Private Collections throughout Canada, USA, Europe, and Australia.
www.deanfrancis.ca
1932-2020
Fanny Fynebuik moved to Canada in 1957, where she settled in Alberta. She is the recipient of several awards for her participation, commitment and excellence achieved through the many oil and watercolour workshops and seminars she has attended.
Fanny Fynebuik has an established studio, but the majority of her work is done on location, primarily in Alberta and on the west coast. In an age of mass-media imagery that means to frighten and persuade, Fanny's oils and watercolours temper the soul. Her paintings express the tranquillity of nature without cynicism or apology.
Fanny Fynebuik's work is a part of numerous private and corporate collections in Canada, the United States and Europe.
1936-2014
One of Canada's most accomplished painters, Robert Genn gained international recognition for his landscape subjects of Canada's West Coast. Extremely prolific and dedicated to his art, he painted in most parts of Canada, the United States, Central America, Europe, and Asia and made comprehensive land and sea explorations painting en plein air on Northern Canada's Mackenzie River and the Arctic, Haida Gwaii, North Ontario's Lake of the Woods, Lower Canada and the American Southwest. He hiked and painted Canada's West Coast Trail, The Grand Canyon and Lake O'Hara and pioneered what he called "heli-painting" in the Canadian Rockies.
Robert was born in Victoria, British Columbia in 1936 and attended Victoria College, The University of British Columbia and The Art Centre School in Los Angeles, California. Genn carried on the tradition of the Canadian Landscape with fresh, painterly techniques and strong design, often exhibiting his devotion to painting by reducing grand themes to small panels painted on location in the wilderness he loved. Robert's technique includes a tradition of strong design with patterns of colour and form, revealing a pervasive sense of personal style. He worked principally in acrylic, though he did considerable work in oils, watercolour and lithography and silk screen printing.
In October, 2013 at age 77, Robert was diagnosed with pancreatic cancer. He passed away at his home in South Surrey, British Columbia on May 27, 2014. He is survived by his wife of 50 years, Carol, his children David, James and Sara and his grandchildren Beckett, Zoë and Poppy.
Ken Gillespie Artist Ken was born in Vancouver in 1948 and spent most of his life in Calgary until moving to the Okanagan in 2000. He has been a full time professional artist for over 20 years and is a senior signature member (S.F.C.A) of the Federation of Canadian Artists. Ken has done many solo shows in top Canadian Galleries. His works are collected worldwide in private and public collections. Ken's artwork has been in several Publications including 'International Artists' magazine in their 'Master Painters of the World' section.
www.kengillespieart.com
Henri de Groot produces highly refined Portraits of the West out of his home studio west of Edmonton, Alberta. He works in graphite and oil to produce beautifully detailed images of people and horses that often convey his sense of humour and reveal a glimpse of a real life cowboy or rancher.
De Groot produces his yearly output evenly between colour (oil) and black & white (pencil). Oil lends itself well for landscape scenes to capture the subtle shades and light of nature, while pencil drawings give the portraits depth and old time western feel.
Completely self-taught, the artist feels the most important element of any art work, is light and composition, and no amount of technique will overcome the lack of those basic elements.
De Groot's works are exclusively figurative and his unique ability to capture the character and likeness of his subjects, plus the incredible crisp style has won him numerous accolades.
Looking back on more than a decade as one of Canada's premier portrait artists, de Groot said he is extremely grateful the vocation came naturally to him.
www.degrootwesternart.com
Roland Gissing was born in Willersey in the county of Worcester, England on 14 May 1895. The artistic side of his nature came from his father Algernon Gissing, a well known novelist, who was the brother of the quite famous writer, George Gissing. With the exception of a few years art instruction at George Watson's College in Edinburgh during the early 1900's, Gissing is almost entirely self taught. Introduced to the phenomenon of the "moving picture" while in Edinburgh, he made visual contact with the freedom of the western frontier and the world of the cowboy. The west became the country of his dreams.
Arriving in Calgary, Alberta in the spring of 1913 an 18 year old Gissing came to Canada and for more or less the next ten years followed the life of a cowboy, taking life as it came, from the Peace River country as far south as Mexico working on various ranches along the way.
While in Montana Gissing met Charlie Russell the famous cowboy artist who nodded approval of Gissing's early sketches depicting life on the range. In Nevada he met Will James, the cowboy writer of western stories who also gave Gissing considerable encouragement.
It was the fall of 1923 that he was fortunate enough to find an open homestead on the east bank of the Ghost River west of Cochrane, Alberta. The beauty of the foothills and Rockies decided the location for him and a fortunate one it was. His fondness for sketching and drawing had grown and with a rising need to test his ability he wanted to try painting for a living.
And so it was that Roland Gissing would become one of Western Canada's most prolific artists until his passing in September, 1967. His realistic portrayal of the western landscape is today prized and honored by many.
Curtis Golomb was born in Hornpayne Ontario in 1963. Growing up in small cities and towns throughout Northern Ontario, he drew inspiration at an early age from the beauty of his surroundings, and images of the Group of Seven. His frequent travels throughout areas that were painted by artists such as A.J. Casson and Tom Thompson, inspired him to pursue the arts. He was also inspired at an early age while watching a CBC documentary about Toni Onley. "I was very young when I saw the film, and was quite taken by the apparent ease with which he could create such emotionally moving pieces of art with a single fox tail brush and a few simple brush strokes. Clearly there was more going on here, and I felt compelled to look at this more closely. This was the beginning of my passion for painting. Starting with watercolors I learned that less is more, and to work with the medium."
Both his acrylics and watercolors are best known for their bold use of expressive color, while anchored firmly with strong composition and design. Many years of experience now give way to the painting of his unique vision of the landscape. His watercolors are known for their vibrant colors and high contrast - not typical of what watercolor paintings have been known for. They are created on archival watercolor board and then finished with varnish in such a way that no glass is required so that they are framed like any work produced on canvas!
His works are collected throughout the world and enjoyed by those who identify with an emotional response to their surroundings as the paint flows expressively seducing the viewer to participate in an exchange of varied texture, and strong color combinations. The viewer's emotional response that his art triggers engages one to participate in a heightened poetic journey to places of serenity and peace. His works can be seen throughout Canada in many fine galleries.
Curtis now resides in Southern Alberta, painting throughout Canada. He teaches workshops and can be contacted for demonstrations and quick draws on request.
www.curtisgolomb.com
1926-2012
Mannie is a South African born Calgarian. He studied at the Art College in Johannesburg; in Lisbon, Portugal at Escola de Belas Artes; and at Calgary's Alberta College of Art & Design. Settling in Calgary, he joined the Calgary Sketch Club where he came under the influence of Roland Gissing, his sketching partner. Two major mentors were Canadian Robert Lougheed, CAA and American artist Richard Schmid. Mannie is the author of "Winter Landscapes" published by Walter Foster Art Books of California. He has exhibited internationally including the C.M. Russell Museum in Great Falls, MT. He is represented in Europe by the Sesinbra Gallery in Lisbon. A longstanding member of the Federation of Canadian Artists, Mannie was a prize winner at their 50th Anniversary Show. His work is to be found in public, corporate and private collection both here and abroad. As a realistic artist, Mannie is equally at home with portrait, figurative, still life, and landscape painting. His style is impressionistic.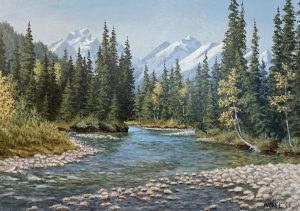 Noel lived 20 years in the Turner Valley oilfields. Married and moved to Calgary, where her and her husband raised four children.
Her younger years were spent camping and fishing with her parents in the Rocky Mountains. At this time she acquired an appreciation for wild life and a love of the mountains
Her husband Hugh is now retired from the oil industry and they enjoy travelling, but find they live in the most beautiful place of all. Where else in one day can you enjoy the beautiful mountain scenery, your foothills heritage and a prairie landscape!. Although she has tried all mediums, her favorite remains acrylics. It seems to achieve the effects she needs and allows constant work due to its fast drying. She doesn't have patience to wait for something to dry. There is always another idea and picture you wish to get on to.
A native Calgarian, Michelle Grant has been working as an artist since the mid 1990's in the realist style. Michelle works in many mediums including oils, acrylic, and graphite. The consistent quality of her work has resulted in its' collection by both private and corporate clients world wide.
Her exquisitely rendered equine imagery has garnered international recognition, and has been published in many books, and magazines. Michelle and her work were featured on the television program "Hidden Gems" that aired in 2009, and she has been a featured guest on the award winning "Cowboy Country Television".
Recently Michelle garnered the distinguished 2012 Artistic Achievement Award for the Calgary Stampede Western Art Show. She was also commissioned to create the Calgary Stampede's 100th year commemorative gold and silver coins for the Royal Canadian Mint.
Michelle has been teaching art lessons, classes and workshops since 1996. Many of the students she enthusiastically mentors and encourages are successful artists in their own right. She presently teaches at Swinton's Art Supply, Instruction & Framing in Calgary.
www.michellegrant.ca
David Grudniski is a Calgary based artist and entrepreneur. He received his Bachelor of Fine Arts degree from the University of Lethbridge, School of Fine Arts after attending the Alberta College of Art and Design in Calgary. David's work has been seen and recognized as a valuable contribution to the creative community and is collected locally, nationally and abroad. He has exhibited in Italy and across Canada in solo and group shows in Edmonton, Montreal, Vancouver, and Toronto.
While traveling Europe David's exposure to classical, modern and contemporary art, evolved into a bold transformation of his art practice. He owned and operated Catharine Studio Art Gallery in Inglewood, Calgary and for a decade invited photographers, musicians, and visual artists to create and exhibit their work.
David's proclivity for creative expression never diminished and it is a force to be experienced.
www.grudart.ca
Adeline Halvorson knew at an early age that she wanted to be an artist. In her rural upbringing, animals, especially horses, played a very important role. Her entire working life has been dedicated to her career through experimentation, endless reading and hours of practice. She has developed techniques entirely her own, first in pastel, then in acrylic.
In March 2009, the release of the children's art book "La Primera," written by Ian Tyson, features 13 Halvorson paintings.
She spends most of her time researching and creating the paintings she markets to a growing group of collectors. She enjoys the variety of diverse subjects - floral, still life, dogs, or a childhood scene, and most often, her favorite equine subject matter. Years of riding and grooming horses has given Halvorson a knowledge of anatomy and muscle movement that her painting skills bring to life on the canvas. The shapes and movement of muscle, variety and texture of harness and trappings, as well as the horse and its interaction with its human counterparts provide endless artistic inspiration for one who grew up with a love for one of the world's most beautiful animals.
www.adelinehalvorson.com
Brent Heighton has been painting for over 30 years fulltime. After college Brent began a brief career in the commercial art field. Not satisfied with the deadlines, the rush jobs, and working out other peoples ideas as to how they wanted things to look, he realized that as difficult as working in the Fine Arts was, becoming a painter of what you want and not what someone else wants, was the most important and satisfying. He has never looked back on or regretted taking that chance.
Working as a fulltime Artist has allowed Brent to travel all over the world in search of ideas and things to paint. Brent has traveled with his family to Europe, spending time in France, Holland, Belgium, and as far south as Greece. All the time with paints and brushes in hand, always looking for that inspiration just around the corner. The difference of light in a place like Greece compared to Cornwall, England is very exciting says Brent.
Brent's watercolours, acrylics and oils have been well received by many corporate and private collectors in over 30 countries of the world. Brent has had exhibitions in New York, Tokyo, Germany, Belgium, Holland, many parts of the U.S. and most recently Mexico.
www.brentheighton.com
Dave Hodges graduated with a Bachelor of Science degree from Montana State University, Bozeman, Montana in 1979. He began sculpting as a career in 1982 and has been commissioned to create sculptures for several large corporations as gifts to their international clients.
His work is currently carried in galleries throughout the United States, including the Kentucky Derby Museum at Churchill Downs. Articles on his work have been published in Southwest Art magazine and Western Horseman magazine.
Dave is also an oil painter of landscapes of the western region. His work has received awards at the following shows: Willamette Western Art Show, Salem, OR; American National Miniature Show, Laramie, WY; Western Regional Art Show, Cheyenne, WY; National Miniature Show, La Luz, NM.
He recently completed a bust of a pilot for the Northwest Airline Flight Training Center in Minneapolis and was commissioned to create a bust of opera star, Marilyn Horne, which was installed at the University of Pittsburgh in March of 2002. His life size statue of a running horse, "Free Spirit" enhances the City Park in Big Timber, Montana.
Dave accepts private and organizational commissions for portraits and large bronze sculptures.
www.hodgesfineart.com
Kiff Holland is an established Canadian artist. He completed his formal art training at the University of Witwatersrand and at the Johannesburg School of Art. In 1975, he immigrated to Canada. After settling in British Columbia, Kiff became one of the West Coast's finest artists. He has received numerous awards for his work from the Federation of Canadian artists, the Northwest Watercolor Society, and the American Watercolor Society. Kiff has exhibited with the British Institute of Painters in Watercolour and the Royal Society of British Artists and is a signature member of the American Watercolor Society, a distinction held by only a few Canadian artists. While pursuing his passion for painting, Kiff has also taught and mentored many professional and amateur artists through his work as an instructor in the IDEA (Illustration, Design, Elements and Applications) Program at Capilano University in North Vancouver and in workshops in Canada, the United States, and Europe.
Kiff 's mother encouraged his childhood talent for capturing on paper the insects, butterflies, and trains (14 coaches long, with passengers in each window and a couple of conductors collecting tickets) around his home in rural South Africa. Kiff has a gift for making the ordinary extraordinary, the familiar fascinating. His passion for translating his observations into art; his ability to see beauty in the fabric of everyday life; and his intimate knowledge of the effects and power of light have led to a large and diverse body of work. Kiff's paintings (in watercolour, egg tempera, and oil) include exquisite, intricate still lifes of glassware; evocations of the serenity and beauty of the BC coastline and the varied boats that ply its waters; landscapes capturing the feeling of being in the BC mountains, the French countryside, and the Italian seaside; as well as portraits and figurative works that invite a connection with the human condition. Works by Kiff Holland are held in collections around the world.
Kay Homan was born in the state of Nebraska where she began to draw before she could talk. She now resides in the small town of Providence in the mountains of northern Utah. She has been featured in numerous publications such as SOUTHWEST ART and ART OF THE WEST, and has won literally a bushel of awards, including the National Park Service's 75th Anniversary Award. Kay was made the first woman member of the 'American Indian & Cowboy Artist Association' in 1982. Primarily working in watercolors the artist paints the subjects of the American west. A full time artist for 35 years, Kay has documented painting and selling over a thousand paintings. For the past five years she has been invited to exhibit at the prestigious Western Art Show held during Canada's Calgary Stampede, even winning a Gold belt buckle for Best Booth.
A talented and hardworking individual, George quickly established himself in Calgary, Alberta after immigrating to Canada in 1956. One of eight children, his artistic ambitions began early in his youth. Several years of training in Fine Art in Hungary led to continued studies after his arrival in the west, graduating from Art Institute School Inc., in Minneapolis, Minnesota in 1964. He has been painting professionally since 1966 with great success, during which time he has been honored with many awards of local and international acclaim. George's award winning portraits in oils from the Art Institute Schools' International Art Competition in Minneapolis were published in Art Institutes Schools academic textbooks in the 1960's. His portrayal of the western Canadian landscape for the past 40 years have earned him unquestionable recognition throughout North America and other parts of the world.
Neil Hulley (1939-2004) was a self-taught artist, starting out with pencil and paper at a very early age. However, he did waste many years with the South African culture dictating that a 'man's man' had to play rugby and not be at all 'arty'. It was in his adult years that he painted his first picture and was immediately hooked.
Initially Neil started out as a farmer and it was there that he developed his love of animals, nature and the rural lifestyle of bygone days. In 1979 he left the land of his birth and immigrated to Canada where he has made this beautiful land his home. Since his arrival here, Neil is fast becoming known as a Canadian Artist. His work has been well received throughout Canada and is now represented in many corporate and private collections across the globe.
His wife, Vivian, is also an artist and although their styles are very different they are an inspiration to each other.
Neil paints in acrylic and watercolors in his own unique style, capturing realism with a subtle focus on detail. His subject matters range from the Rocky Mountains, to the Prairies, and the animals involved. Through his painting, Neil strives to pay tribute to the horse as he feels we will always be very indebted to that worthy animal. Although in itself not the bravest, this faithful steed has helped man in wars, in conquering the West and in ranching and farming. African and Canadian wildlife also feature in his work.
A self-taught metal sculptor since 1976 using steel, brass, and copper, Stuart brings out the unique characteristics of each metal with grinding, burnishing, buffing, and coloring. With great attention to detail, he creates wildlife, mountain scenes, marine life, and even corporate logos.
Mark Hobson lives in Tofino, B.C. Canada on the rugged west coast of Vancouver Island, where he has painted professionally for over twenty-five years. Born in Vancouver in 1953 he grew up in various parts of B.C. alternating with living around the world in locations as far flung as Sri Lanka, Bangladesh, and Portugal. His teenage years were spent in boarding schools, including two years in Northern Ireland. Drawing almost every day in his early years he gradually taught himself skills in watercolor, oils, and acrylics. Mark is best known for his passionate portrayals of the wildlife and landscapes of the Canadian Pacific Coast. From pounding surf to misty coves, from rain forests to the underwater realm of the careful use of light is always present enhancing subtle drama in his work. Professionally trained as a biologist, he taught high school science for nine years before devoting his career full time to painting.
Mark's work has won awards in the U.S., Canada, and Europe. He has participated in shows throughout North America and as far afield in Hong Kong and Singapore.
A strong Advocate for preserving the wilderness he loved to paint, Mark has donated numerous paintings and much of his time and efforts to preserve natural environments.
markhobson.com
Peter Ivens is an active outdoorsman and practicing professional artist of over twenty- five years experience. He is a B.F.A. graduate from the University of Alberta and has worked as an illustrator, designer and art instructor. A session at the respected Emma Lake Artists Workshop in 1982 encouraged him to paint full time and since then his paintings have been exhibited throughout western Canada. The Alberta Foundation for the arts holds his artwork in their collection, as do numerous corporate and private patrons.
The personal, expressive landscape is his focus in recent work, gathering inspiration from the Rocky Mountains where he spends a great deal of time hiking, skiing and sketching.
Born: Calgary, 1955
Studied: BFA University of Alberta, 1987
peter-ivensart.ca
Roger Kamp began painting when he was still a boy at home. Under the tutelage of his Uncle, Frans Kamp, a professional fine art painter originally from Holland, he developed an eye for landscapes and a technical expertise for translating his love of the mountains to the canvas. As an adult, Kamp became an avid mountaineer, discovering the different mountain ranges of western Canada and the United States. He furthered his studies with the renowned Canadian artist David Young.
Individual peaks such as Mt. Hood and Mt. Rainier and the Canadian Rockies. His ability to portray the awesome nature of mountains with the context of blues skies and wooded lowlands sharpens our own awareness. As the eye travels Kamp's oil paintings we explore everything from the detailed foliage to the high altitude snowfields. Kamp brings the mountain to us.
Roger Kamp's work is in many private and corporate collections throughout Canada.
He's a graduate of the First Nations University of Canada and has accumulated a number of awards and achievements in his twelve years as a professional artist. He's been juried into several prestigious art shows across Canada and the United States including a fourth appearance at the Calgary Exhibition and Stampede's Western Art Show Sales Salon.
Over the past several years Clarence's paintings have been auctioned at Robert Kennedy Jr.'s Waterkeeper Alliance gala fund raiser where he's had the pleasure of meeting the likes of Robin Williams, Alec Baldwin, Jason Priestly, Julia Louis Dreyfus, Fran Drescher, Marla Maples, Richard Dean Anderson and of course Bobby Kennedy Jr. His painting "Visions" was presented to His Royal Highness, Prince Charles on his Royal Tour of Regina in 2001. When one is honored by his peers it can be a defining moment and it was apparent when Clarence was bestowed with the First Nation's Art and Achievement Award in 2002. The award is presented by the Women of the Dawn, to an individual of First Nation's ancestry, in recognition of lifetime achievement in their particular field.
Born and raised on the Day Star First Nation in south central Saskatchewan, Clarence is best known for his diversity and draftsmanship. He utilizes art as a means of communicating his people's symbols, spirituality and beliefs. His humble beginnings on the Day Star First Nation stand in stark contrast to his mountain home in Banff, Alberta, where he lives with his wife Val and two daughters, Shania and Sierra.
www.clarencekapay.net
Canadian [1905-1989]
Alberta Society of Artists, British Columbia Society of Artists, Federation of Canadian Artists, Royal Canadian Academy of Arts
Born and raised in Lumsden, Saskatchewan, Kerr began drawing an early age and his mother, who painted in watercolour, taught him what little she could and encouraged the idea of being an artist. In 1919, a number of Kerr's works were entered into the Regina Exhibition - he received 13 first prize awards. In 1923, Kerr headed to Toronto seeking a formal art education, which he obtained at the Ontario College of Art; his teachers included Arthur Lismer, J. E. H. MacDonald, Frederick Varley, and William Beatty. While the Group of Seven approach to painting was not taught, Kerr was exposed to the ideals of the Group at various exhibitions and studio visits. After returning home, Kerr was moved to contribute to the rendering of a uniquely Canadian landscape, "Since the Group of Seven had passed up the prairie I thought someone should do something about it." However, Kerr was unprepared for the artistic challenges posed by the unique landscape of the Prairie, namely the open spaces and wide horizon. During the depression, Kerr had a handful of exhibitions but few sales. In 1936, feeling defeated and isolated, Kerr burned most of his paintings from that period and left for England. Ten nomadic years followed, working in film, art, and writing. Of his time, Kerr remembers "my ardent nationalism went down the drain; yet I never quite relinquished the dream of painting the prairie as I felt it should be done."
Donna King was born in Edmonton AB in 1955. After spending her childhood on a farm just outside of Edmonton she resettled near Leduc AB in 1975. Donnas love for horses was evident at an early age as she worked on pencil sketches for her mother. Her love for vibrant colour led her to oil paintings and she started getting requests for paintings on hand saws and circular saws. For many years she had sold-out shows at the Ponoka Rodeo Art Show. For the past eight years her paintings have been juried into the Western Art Show and Auction in Ellensburg WA. Two of Donna's paintings have been accepted into the 2011 March in Montana Auction in Great Falls MT. Donna only paints about four or five paintings per year and most have sold in Canada the USA and Japan. This self-taught artist loves to paint what she knows - the west country wildlife horses dogs cows and a cowboy.
Born in Hungary in 1946, Andrew and his family immigrated to Canada in 1957 after escaping the turmoil of the Hungarian uprising against the Russian invasion. After arriving on the East Coast of Canada, their journey eventually led them to Vancouver Island, British Columbia. Although Andrew spent his early adulthood employed as a topographical draftsman, his love of art was always with him. He began working with oils and painting his surrounding landscape. A move to the interior of BC gave him more inspiration with the vast mountains, lakes, and wildlife. In the early 1980's he started to paint wildlife and sell his works through small local shows and galleries. This self taught artist was starting to see his talent evolve through developing his own recognizable style.
With a growing demand for Andrew's work he began to produce limited edition prints. 110 editions are still on the secondary market and have made him a highly recognized name worldwide.
Exhibits and research have taken Andrew to far parts of the world, such as Hong Kong, Switzerland, England, Austria, New Zealand, Germany and Africa. Extensive travels around North America have allowed Andrew to exhibit in such places as Florida, South Carolina, Las Vegas, Montana, Phoenix, and Seattle, in addition to many Canadian Provinces. The ability to travel because of his art is a privilege Andrew appreciates greatly.
kissfineart.com
Bruce Koch is an emerging portrait artist from Nanton, Alberta, and currently divides his time between Nanton and Antelope Valley, Nevada. He works primarily in the traditional medium of oil on canvas or oil on board. His work is also available in small collectable editions of certified Giclée prints.
​Years ago Bruce discovered a personal love for painting when he set out to create a picture of his beloved dog, Punch. When he is not painting, Bruce spends the rest of his days creating as a master carpenter, cowboying, and horse and rider training as a Licensed Parelli Instructor.
Bruce's first portraits were of the animals and people in his everyday life, such as his son, Bob on a bronc, his dogs and his old friend Bob Brown who rode in many professional rodeos. More recently he has ventured into portraits of noteworthy historical figures from the west, including Chief Truckee, New Breast, John Ware and Pancho Villa.
www.onemoccasin.com
Her current portraits show an experienced artist who has mastered drawing. Her work appears at poetry gatherings, horse shows and stampedes. Private shows have ranged from galleries in New Mexico to Western Canada. Her latest art shows include the Medicine Hat Cultural Centre, the Medicine Hat Museum and Art Gallery. Collectors from Great Britain, to the southwest corner of the United States, and Canadians from British Columbia to Ontario have purchased her originals and prints. The Alberta Foundation for the Arts has some of her originals in their collection. Standing with Gena, looking at her most recent paintings of the Calgary Stampede bucking horse herd at Hanna, it's easy to see why. I'm awed at the motion, the colour and the flow of lines. A Gena LaCoste original is a delight. Her painting is full of life - prairie life!
www.genalacoste.com
Yvette Lantz grew up in a rural area of British Columbia on Vancouver Island. Observing and depicting nature in her art became part of her life from early childhood and continues to this day. Over the years the subjects of Yvette's paintings have varied from landscapes to animals, birds and flowers. Although she still paints many different subjects, her preference is birds, especially birds of prey.
Research plays a very large part in the creation of a painting. She spends a considerable amount of time out in the field gathering her own reference material. Quick gesture sketches and her own photos and notes complete the process.
Yvette's paintings have been exhibited in numerous exhibitions across Canada and the United States including the Wildlife Habitat Canada "Wetlands and Waterfowl" traveling exhibition, the Pacific Rim Wildlife Exhibition in Seattle, Washington, the Southeastern Wildlife Exposition, Charleston, South Carolina, Florida Wildlife Art Exposition, Art Essential and the Western Showcase at the Calgary Stampede, in Calgary , Alberta.
Yvette participated in the mural projects of Mural Mosaic (http://www.muralmosaic.com) including Earth's Treasure Chest and Kunamost, Coastal Inspirations which was unveiled at the 2010 Olympics in Vancouver, BC. She also exhibited her work in the Cedar,Yellowpoint Artisan's Christmas Tour on Vancouver Island every year from 2000 through 2010. Her work was featured at the Calgary Stampede Art Auction in 2011.
Her work has won numerous art awards including the 1990, 1992,and the 1996 British Columbia Ducks Unlimited Artist of the Year, 1996 Saskatchewan Wildlife Federation conservation stamp, first day cover and print and the 1997 Manitoba and Nova Scotia, Wildlife Federation Conservation stamp, first day cover and print, the 1999 British Columbia Ducks Unlimited Artist of the Year and the 2001 D. U. Sponsor print.
Canadian [1901-1956]
Alberta Society of Artists, Canadian Society of Painters in Watercolors, Royal Society of British Artists, Royal Canadian Academy of Arts
Alfred Crocker Leighton was born in Hastings, Sussex, on October 27, 1901. At a young age AC Leighton showed an aptitude for drawing but he went on to study architecture rather than art, as his father wished, at the Bradssey Institute, Hasting's Municipal School of Art.
In 1924, AC made his first visit to Canada as an employee of Canadian Pacific. Leighton would board the train in Banff, often jumping off to sketch the scenery and later waiting at the exit of the Spiral Tunnel, in Kicking Horse Pass near Cathedral Mountain, for the next train to pick him up. Canadian Pacific had first choice of these paintings, with the remainder going to AC. All of the Canadian Pacific paintings from this period were destroyed during the London bombing raids in WWII.
In 1929 AC Leighton accepted the position of the Art Director at the Art Institute of Calgary.
In 1930 AC Leighton met Barbara Mary Harvey, a student in one of his classes. They were married in Calgary in 1931 and their honeymoon was spent packing into the Kananaskis area to paint. In 1931, AC Leighton formed the Alberta Society of Artists and was the first president. That year also saw the Edmonton Museum of Art hold a joint exhibition of works by AC Leighton and WJ Phillips.
Throughout the 1930's AC Leighton spent his time between teaching and exhibitions. In 1932 he taught the Summer Art School at the University of Alberta and in 1933 he initiated a summer art school near Banff. By 1935 this led to the establishment of the now famous Banff School of Fine Arts. In 1935 AC's work was exhibited at the Vancouver Art Gallery and by the end of his term in 1936 AC Leighton was exhausted. AC and Barbara decided to take a trip to England for a rest. In 1938 AC resigned from his position at the Art Institute.
n 1941 the Leighton's moved to British Columbia and although they enjoyed the mild climate AC did not find the Coast to have the best weather for a landscape painter. They moved back to Calgary and Leighton resumed sketching in the Mountains and the Foothills.
In 1950 the Leighton's returned to England for 2 1/2 years. When they retuned to Calgary they began a search for land. They were led to some property for sale in the Millarville area, overlooking the foothills, framed by a 300 mile view of the Rocky Mountains. In 1952, AC purchased the property that is now the site of The Leighton Centre. While the house was constructed in stages, AC started producing paintings of the views and the surrounding area. The house was completed in 1960.
AC Leighton's health was rapidly deteriorating and he made has last trip to England in 1962. He was admitted to the General Hospital in Calgary in May of 1965, and soon passed away. He is buried at Millarville, Alberta. In 1971 the Glenbow Museum organized a tribute to AC Leighton through an exhibition and survey of his work.
Lifestyles in western Canada include strong ranching and horse cultures. A native of western Canada, Shannon's formative years were immersed in the equine environment which led to her expertise as an acknowledged horsewoman.
An art career and her subsequent recognition from a loyal client audience and fine art community, began as a tribute to the working stock horse but has transpired to a new realm as Shannon celebrates the elegance of the Arabian equine world with inspirational paintings reflecting admirable worldy steeds rendered in a contemporary style but still capturing the infinite, intense and dramatic brush stroke details which have become her recognizable trademark.
Shannon's paintings and graphite renderings have received numerous Best of Show, People's Choice and 1st Place Awards at fine art shows the past decade. She is often spotlighted as featured artist at invitational shows including Nevada's Northeastern Museum; Arizona's Phippen Museum; Alberta's Calgary Stampede.' Her images grace magazine covers, art posters, greeting cards, and film.
www.shannonlawlor.com
Although Doug Levitt always wanted to be an artist, he was actually too chicken to try painting through most of his life, even though he drew avidly as a kid. 'Something about it just intimidated me, I was scared I'd be terrible and embarrass myself, I guess'. Almost dying in an accident in 2001 changed his mind and focus however, and armed with a fresh load of art supplies (none of which he knew how to use at the time) he decided to conquer the demon. He was surprised by the strong positive reaction from friends and family over his first pieces of art and, since he had a lot of time on his hands to recover physically from his accident, he decided to try entering shows and selling his own works. He has been painting full time ever since.
He paints anything that interests him, including portraits and plein aire landscapes, but his through line is western art and culture – particularly Native/First Nation themes. These were inspired by dream images he got early in his career. 'I'd keep dreaming these vivid images of Native people and they were so clear in my mind all I had to do was close my eyes to recall the image and then I'd paint it. If I got lost, I'd just close my eyes and 'see' the image again and keep painting – and I never remember my dreams as a rule – so that struck me as a special thing', Doug says.
He was selected by the Calgary Stampede in 2008 to paint the image for their promotional poster and the original painting auctioned for $63,000 the following year. Doug has also won Artist Choice, Collectors Choice and Best of Show booth at the Stampede.
www.douglevitt.net
1960-2017
Ken Lonechild was born in 1960 on the White Bear First Nation, near Carlyle, southeast Saskatchewan. He was the younger brother of renowned painter Michael Lonechild (born 1955), and two younger brothers (John and Ivan) are also artists.
Like his brothers, Ken was a self-taught artist, painting in acrylics, fondly depicting his boyhood life on the reserve -- in many of his paintings a boy can be seen observing or tagging along as adults work or socialize. Favourite scenes include hunting, fishing, logging, gathering wood, and returning or setting out on expeditions.
Ken Lonechild's work can be found in many corporate and public collections throughout Canada, and in the USA and Europe.
As one of Saskatchewan's most accomplished and respected Cree artists, Michael Lonechild's paintings can be found in corporate, gallery and private collections throughout North America.
Michael Leslie Lonechild was born in October, 1955 and raised on the White Bear Reserve near Carlyle, Saskatchewan. At an early age, Michael developed a great appreciation for the way of life of his people on the reservation and has many detailed memories of this fast disappearing life-style. From these explicit memories, he is able to capture and depict in vivid colour and with great feeling these scenes from days past.
Michael's paintings have a fundamentally realist style with an impressionistic overlay. His use of acrylics, which dry quickly, enable him to accentuate the mood in his art ,,, "My technique is what people like to call the 'overlapping style': I continue to paint over and over the same area in order to build up the mood." ... This style reflects the blending of man with nature which is at the heart of Michael's work.
Seemingly always interested in art, Michael started painting and selling locally for a number of years, during which time his talent and reputation grew substantially. By the early eighties, he was recognized as one of the youngest and fastest rising Cree artists by Dr. John Anson Warner in his book "The Life and Art of the North American Indian." Michael's life and work were also detailed and displayed on a national television show on up and coming artists during the late eighties. A number of very successful one man shows followed, and since then, Michael has had shows all across Canada.
He is honoured to have some of his creations hang in the Canadian Embassy in Washington, DC as well as in private collections and galleries throughout North America. ​
Mary Anne graduated in Interior Design & Architecture from the Ontario College of Art in 1954. As the recipient of the Gordon C. Leitch Travelling Scholarship she attended the Fontainebleau School of Fine Art & Music in France, during 1955.
At O.C.A. she was mentored by
Carl Schaefer - on how to look at the world
John Martin – on design and grid layouts
Earl Wilson – on techniques in water colour.
While in France, she developed her unique colour palette under the watchful eyes of the then contemporary French masters Professors Remondet and Moutteau.
For the next 25 years, she became a prominent contract designer involved in creating major projects in Toronto's booming office towers. Her projects included corporate head offices, golf clubs, medical clinics and law facilities.
Her clients included Elizabeth Arden, Canadian Cancer Society, Canadian General Electric, Household Finance and the first head office of the Toronto Blue Jays.
In 1980, her interests changed into creating works in the medium of water colour. By mid decade she had been elected to the prominent Canadian organizations CSPWC, OSA & SCA. As a participant in over 70 juried shows, Provincial, National and International she has received over 30 major awards.
Her work is in both private and corporate collections around the world and she is represented by the Roberts Gallery of Toronto.
As a painter, she finds design in the world around her, in the city streets of Toronto, the hills of the Beaver Valley, the lakes of Ontario's cottage country, the fishing coves of Nova Scotia, the inlets of Newfoundland, the snow and ice of the Arctic, the vast spaces of the Prairies or the Inland Passage of British Columbia.
Her years as a designer have much to do with the way she paints. She responds to order, structure & balance, light, shapes & patterns wherever she finds them – in the land or the man made environment. Her artistic work depends on the visual, on finding and expressing design & pattern rather than from an emotional point of view.
Her subtle and unique colours are achieved by many transparent layers of water colour applied over many days.
Shannon is a native Albertan, who presently resides in Cochrane, Alberta with her husband Bruce and two sons, Justin and Jordan. Inspiration for her artwork comes from the love of horses, love of life, God's creation and taking pride in our western heritage. She works mostly in oils, graphite, and something new that has grabbed her imagination, colored pencil on sand paper.
Shannon has completed several private commissions. Her chuckwagon piece of the late Richard Cosgrove is in BP Amoco's Corporate Collection and was used to commemorate Amoco's 50th Anniversary.
Shannon has exhibited several pencil/graphite drawings at the Calgary Exhibition & Stampede Western Showcase and won numerous awards which include: First in Class, First in Section, The Judge's Merit Award and the Master's Award. Her work has been juried into the Calgary Exhibition & Stampede Western Art Auctions and selected to be in the Stampeder's Western Art Gallery.
In 2005 Shannon's artwork was juried in for the 4-day sales salon. Her artwork was juried in for the 2006 Calgary Stampede 4-day art sale at the Roundup Centre.
Shannon was featured in the 2006 Stampede art auction night as a "quick draw" artist.
In 2008, Shannon earned the 2008 Cochrane Heritage Award for her oil painting "The Fugitives".
1932-2002
Born on Christmas Day, 1932, Malcolm James "Mac" MacKenzie shared his gifts with the world by learning to paint and teaching himself the art of bronze casting. "I have been interested in art ever since I can remember," said MacKenzie, "and spent many hours drawing when I should have been studying."
Born and raised on his family's farm in Bearspaw in the foot hills near Cochrane, Alberta, MacKenzie attended a one-room school until grade 10, and then worked as a ranch hand at High River and Longview. After purchasing Brewster's, an outfitting company, he worked for twenty-five years big game-guiding and outfitting in Banff National Park, before leaving in 1981 to devote himself to his art. He was never far from the work of old western life, however, and maintained a cow-calf operation on his ranch north of Cochrane where he operated his foundry and gallery.
As a western artist, MacKenzie created more than 100 sculptures, personally working every stage of production from making the mother molds to tooling each wax and finishing each patina. His best known and largest work is "Men of Vision," a 3 meter bronze statue of a cowboy and his horse erected upon a Cochrane bluff.
MacKenzie completed more than two dozen commissions for his bronzes, including awards for Northridge Petroleum in Calgary, a Canadian beaver for Franklin Mint in Pennsylvania, and trophies for the Canadian National Finals Rodeo.
MacKenzie died in 2002 at age 70, leaving behind a legacy of works that dwell in private, public, and corporate collections around the world, including in Canada, the USA, Australia, England, Japan, and China.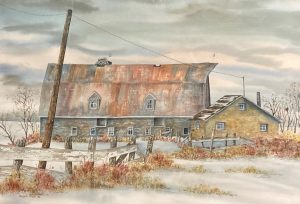 Marilynn Malo began painting in watercolor in the mid-1970s. Because there were few watercolor painters at that time, she taught herself with the help of a few good art books. She has now made painting her full-time profession.
Malo has a realistic style. She takes her inspiration from the Saskatchewan landscape she knows so well. Marilynn's paintings express a sense of nostalgia for the heritage and culture that surrounds her.
Donna Jo received her B.S. in Education from Auburn University, and post graduate work at Sanford University. She taught in Alabama and Florida before immigrating to the Bow Valley in 1976, working in Environmental Education for Kananaskis Country. In 1986, she began painting watercolours making it a full-time profession in 1988.
An educator and naturalist, Donna Jo teaches weekly adult watercolour classes in Canmore and Banff, corporate and summer back- country workshops and Artist-in-Residence courses for the Alberta Foundation for the Arts. Her popular workshops have been presented by the Calgary Zoo, the Alpine Club of Canada and were the subject of an interview on CBC Radio.
Massie spends summers hiking in the mountains painting, photographing and sketching on location. This intimate knowledge and relationship with the land has led one Vancouver art critic to write about her art, "…. clear and crisp like her beloved mountains, she has a steady hand in a good eye for colour." Her flower paintings have also become known for their rich colour and bold composition.
Her basic philosophy is that "art is teachable and learnable" and should be "fun". Donna Jo enjoys painting the mountain landscape close to her studio-home in Canmore.
Donna Jo is a member of the Alberta Society of Artists, the Society of Canadian Artists, and Women Artists of the West. Her work has been exhibited in galleries in Vancouver, Toronto, Banff, Jasper and New Mexico and can be found in numerous private and corporate collections. In 1995, the " Artist's Magazine" recognized her as a finalist in the Landscape Competition. The 1998 FEESA, Alberta Government Calendar features one of her works.
massieart.com
Much of Ken's artwork reflects his life growing up in rural Montana, and the life he lives today. An avid outdoorsman, Ken likes to hunt and fish, spend time at his cabin, or ride and pack his horses into the mountains. Still involved with the family ranch where he grew up, Ken occasionally helps his brother with work such as branding, haying and gathering cattle. He earned a bachelor's degree in art from the College of Great Falls. From there, Ken went on to teach high school art. He has worked in a bronze foundry, and has also packed trail crews into the Bob Marshall Wilderness for the Forest Service. His art is a representation and expression of his life experiences, capturing western and rural heritage.
Ken's creative pursuits have gone from those early ranch sketches to acceptance and participation in some well-known western art shows and auctions in the United States and Canada, including National Finals Rodeo Cowboy Christmas, Safari Club International and the Rocky Mountain Elk Foundation National Conventions, the American Royal Western Art Show and Sale, the Mountain Oyster Club Art Show, the "Empire 100" Show and the Western Spirit Show. A couple of Ken's regular shows are the C.M. Russell Auction and Exhibitors Show, now the Western Masters Art Show and Sale, in Great Falls, and the Calgary Stampede in Calgary.
Ken's art stands on its own merits with top artists in the west. His sculptures are alive, enticing, well designed, creatively thought out and exciting. They document his upbringing and western heritage as well as the ups and downs of life. "Artistic ability is given by a greater force, and it's my responsibility to train and nurture this gift, and invite others to experience my creative interpretations."
www.kenmayernikbronzes.com
Maggi's watercolor paintings will be sure to catch your eye with their vibrant color and strong sense of place. Her wet-in-wet technique creates spontaneous and exciting interpretations of local landscapes, skies and florals that continue to be her inspirations. Her loose and free flowing style encourages surprise elements and hidden dimensions that stimulate the imagination and the viewer.
born and raised in the Nanton area of Southern Alberta, Maggi is enjoying the transition of her varied life experiences and rural upbringing into exciting and interpretive paintings.
Numerous paintings are in private collections across Canada as well as internationally.
Drawing from a young age, being supported and urged to love art by my parents, I believe that expression through art is the defining aspect of my personality. Joy, passion and love are key elements in my art with color, movement and texture being my voice. From oil to acrylic, digital to ink, every medium I work with results in artwork which reflects my tactile, expressive style. What I love most is creating artwork for express desires, personalities and individual taste.
rawartists.com/janicemather
My paintings incorporate a background, spanning a lifetime, in art and design. My latest work is lavished with rare Alberta ammolite. Ammolite is a vivid opalized gemstone with gorgeous metallic colorations found in no other place in the world. I am the only artist in the world creating collage paintings from this beautiful gemstone. I can often be found on ammonite hunting expeditions where I become a living part of the landscape as I imagine what it may have looked like aeons ago when all was covered by a shallow sea with living cephalopods swimming about attacking prey and being hunted by mosasaurs. Only the genus, Placenticeras, produced the lovely metallic shell that we now refer to as ammolite. What a special place to be lucky enough to live in!
I was born in Washington State which imprinted on every cell of my being, oceans, mountains and rain forests. My southern roots influenced me in art and culture, where i was specifically drawn to modern art. Some of my favourite artists are Andy Warhol, Jackson Pollock, Klimpt, and Kandinsky.
You will often find Pollock-esque type backgrounds subtly woven into my designs. I have lived in Canada since I was twelve and call Calgary, Alberta home. The wide-open prairies, rolling hills and breathtaking mountains have wrapped their roots around my soul and I am forever captive. Alberta's unique characteristics make it a magical place, hills covered in wild flowers, streams flowing over colorful pebbles hiding silvery fish, buried treasure of ammonite and ancient dinosaur fossils, deer running free, eagles soaring high and friendly peace loving people who aren't afraid to don the odd cowboy hat and dance the night away to a rousing country tune. ​
​My abstract art is elegant jewelry for walls, shimmering, dazzling, vivid, swirling movement, color and texture. ​
www.cherissemia.com
Edward Michell's dramatic abstracts display a haunting, ghost-like richness that evokes the coloration and patinas of another era. Michell's palette incorporates such raw natural materials as: Yukon gold leaf, Canadian silver leaf, crushed diamonds from the Ekati diamond mine, Alberta oil sands, hand-dug ochre's, and paints made from blueberries, raspberries and beets, and green paints made from the natural pigments extracted from grass and leaves. He transforms elements of our land into amazing works of art. "I create art from our land. Using age-old techniques and natural paints and materials, I push the limits on what and how we perceive Canada. I want to explore the guts of the land, using Canada's natural materials and recreate natural paints and patinas from the Renaissance and bring them to the forefront of today." Edward is a third generation Calgarian who was educated at the Alberta College of Art and Design, Ryerson University in Toronto and F.A.O.L. in Carcassonne, France.
One of North America's most dynamic contemporary artists, Edward MICHELL creates art which is captivating to look at and highly sought after. His solo shows frequently sell out, and his work is acclaimed in both Europe and Asia.
www.edwardmichell.com
John McKee was born in Sudbury in 1941. Upon completion of his BA in Fine Art at the University of Alberta, he pursued graduate work in Arizona. He received his MFA in 1969 and taught drawing, painting, sculpture and art history for eight years at University level. Returning to Calgary in the late 1970's, McKee began to paint full-time and exhibited in Toronto and Calgary.
A consummate landscape painter, Russell Bingham, curator of the 1985 Edmonton Art Gallery exhibition of McKee's work stated: "The personality that shows through McKee's work is of a restrained thoughtfulness and a unique kind of visual intelligence. This is perhaps most apparent in the wonderful way he depicts deep space, the way he orders it with a logic that never becomes pedantic." McKee's subject matter touches on all of Western Canada's strengths ranging from the deep Prairies to the Foothills of Alberta and the Rocky Mountains to the West Coast. To capture the staggering panorama of western space in all its seasons, John developed a technique of richly shadowed transparencies and detailed expressive brushwork. McKee is collected throughout Canada and the US in numerous public, private and corporate collections.
mckeeart.com
Born in Minneapolis in 1952, Bruce Miller showed signs of artistic talent at an early age, Given a set of acrylic paints for seventh grade art class, he painted exclusively with acrylics until 1999, when he began painting with oils.

After high school, Bruce majored in art at St. Cloud State University and expanded his horizons as a world traveler. He returned to Minnesota to seriously pursue his art career in 1975. Miller experimented with a variety of genres including portraits, landscape, abstract and surrealism. Being an avid outdoorsman and Eagle Scout, in 1981 he began painting wildlife.
In 1988 he won his first national contest
, Artist of the Year for the Michigan Wildlife Art Festival and since has won over 50 awards and been featured at several major art shows in the country.
He has won 23 conservation stamps including
the 1993 Federal Duck Stamp and recently the 2015 Texas Duck Stamp. And was named the 1999 Ducks Unlimited International Artist of the Year, The National Wild Turkey Federation Artist of the Year 2008 and the Rocky Mountain Elk Foundation Artist of the Year in 2002 and 2011. Miller's work has generated over $10,000,000 for conservation. Conservation of wetlands being paramount in his life.
His work also has won critical acclaim, being selected for the Leigh Yawkey Woodson "Birds in Art" exhibition. His paintings have won two 'Award of Excellence' honors, at the Natureworks art show in Tulsa.
He has also won two Artist Choice awards at the Artist Studio and Auction at the Calgary Stampede, most recently in 2014. He also does the Dallas Safari Club show in January and SCI in Las Vegas in February.
In 1999, Miller was moved by some art he saw at The Museum of Russian Art in Minneapolis. He decided to switch to oils and attempt to paint in a more impressionistic manner. His work continues to evolve after years of intense study.
brucemillerartist.com
Val Moker is best known as an award winning painter of Western Art. She won the "Best new Artist Award" at the Calgary Stampede in 1999, the "Peoples' Choice Award" at the Canadian Portrait Academy, and has followed up with other citations including the Will Rogers Medallion Award from the Academy of Western Artists in Oklahoma. Val also excels in figurative and nature painting.
Val's oil and acrylic paintings have appeared in venues ranging from Cowboys & Indians Magazine and Kennedy Publication's Best of Worldwide Oil Book, to Hollywood's Golden Boot Awards which is sponsored and presented by the Motion Picture & Television Fund. She's completed commissions ranging from the Kidney Foundation of Canada to the Pro Rodeo Hall of Fame in the United States.
Val has degrees in education and arts from the University of Saskatchewan. In addition to her own painting, she has taught art in both the School System and in settings such as Learning Through the Arts (LTTA), a structured curriculum development program sponsored by the Royal Conservatory of Music in Toronto, Ontario.
www.valmoker.com
JoAnne Meeker is an oil painter who enjoys life in Dubois, Wyoming. After attending the University of Kansas, School of Fine Art, The Kansas City Art Institute, and the Art Institute of Southern California, she started her career as an Illustrator, Art Director and a few years later, Agency Owner.
Her transition back into the fine arts was as a painter and fine art photographer. Her cutting-edge photography broke new ground, capturing the western lifestyle, with the "eye of a painter". Her award winning photographs are in corporate and personal collections around the world.
A full-time oil painter, JoAnne Meeker's work is full of contemporary color and a painterly style. In her most recent series THE WRANGLERS, she portrays the character and lifestyle of the men and women who work on today's modern ranches. "When I begin painting the details, I can hear their stories". JoAnne is currently represented by "The West Lives on Gallery" in Jackson Hole, Wyoming.
www.jmeeker.com
1948-2018
Born in Switzerland in 1948, Hubert Nanzer has led an eclectic and dynamic life. After graduating from the academy of art in Lucerne, he headed off on a three year travel excursion. During this time he worked and lived and traveled through almost 70 countries, experiencing more in a few years, than most people in a lifetime.
Through his travels he has had many pivotal experiences with mountains and the people that live near them. He got to know many of them personally and shared in their connection to the mountains. Six months later in Japan he was shocked to see a TV news report showing his friends being gunned down from helicopters, by violent warlords fighting for control of the area.
While riding on a steam train in the fearful Atacama dessert right at the border of Bolivia and Chile, a beautiful formation captured his desire. After being dropped off in a small border town he made his way to the top, with little equipment or preparation. He didn't understand the power this mountain had on him at the time, but now, more than 20 years of life experience later he is exploring that power through his art.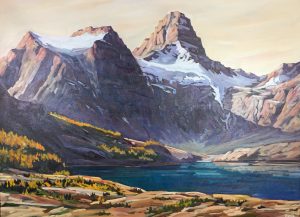 1943-2015
Zelda Nelson was born in Saskatoon, Saskatchewan, moved to Calgary in 1971, and then to Canmore in 1987. Her passionate interest in art and all forms of creativity led her to enroll in various art classes offered at the Banff Centre of Fine Arts and the University of Calgary. Zelda has participated in juried shows at the Whyte Museum in Banff, has frequently exhibited in F.C.A. shows as well as several art galleries in and around the Mountain Parks.
Zelda's specialty is painting with vibrant acrylics and oils, often on location; of Canada's most stunning scenery. Amongst her favorite locations to paint are Lake O'Hara in Yoho National Park and Mount Assiniboine.
Harry O'Hanlon was a native Albertan. He was born in Edmonton in 1916, and spent most of his life in Alberta. Although he has traveled widely, he loved the Foothills country, and thought it was the finest place in the world to live.
Harry was fascinated with the Native American way of life since he was a youngster, when he spent many happy hours building Native villages out of paper, and carving people and animals out of wood. He lived for several years on a Native reservation in Montana, but his immense knowledge of early Native American customs comes from research he did mainly at the Glenbow Foundation in Calgary. He found it disappointing that the young Native people today know very little about the customs and living conditions of their ancestors.
Harry had no formal instruction in either painting or sculpting, and no one really encouraged him in art when he was a child: to explain his "natural" artistic talents. Before starting to work in bronze, Harry expressed his interest in the Blackfoot people and their culture through his oil paintings. One of his ambitions was to paint the last of the old :longhairs" of the Blackfoot Nation, and he completed over 50 portraits. Several are owned by the Glenbow Foundation. Others are in private collections in Canada.
Bronze work fascinated Harry O'Hanlon for years before he actually started sculpting. Then, about five years ago, he examined very carefully a bronze that particularly interested him, and said to himself that he too could do that. To create a piece of sculptures, he soon found there was much research work to be done to depict a subject properly and to make sure that every detail of dress, equipment, hairstyle etc. was authentic.
His work are in the collections of His Royal Highness Prince Charles, The Nickle Museum University of Calgary, the Nickle Family Foundation, Gulf Canada Ltd., Home Oil Company, Chevron Canada Ltd., Bodium Resources of Calgary, the Fijian Museum in Suva, Fiji, and in many private collections across Canada. He passed away in 1996.
Don Oelze's parents were from the southwest of the United States but their love of God took them to different parts of the world. Don was born in New Zealand and at an early age he had a fascination with America and especially with the lifestyle of cowboys and Indians. His grandparents collected Native American artifacts from their property and surrounding country in the eastern part of the United States. When he was six years old, his grandmother sent him an Indian outfit which only fueled his desire and love for the native customs and history. He started drawing Indians at a very early age, and by the time he was in school at age six or seven, he remembers getting in trouble for drawing Indians in class instead of paying attention to his New Zealand history teacher. When he was eight years old, his parents moved back to the United States where he continued to draw and paint through high school. He then attended Memphis College of Art for one year, where he painted many different subjects utilizing a wide range of mediums. Don finished his education at Franklin Pierce College in New Hampshire.
In 1992 while living in Seattle, he met a Native American named Everett who produced native art and Totems. While working with Everett, he did his first big native painting. After trying many different subjects, he knew that painting Native Americans was what he loved to do most. For the past ten years, he has been refining his skills while working in Japan. In 2004 he and his wife , Utako, have moved back to the U.S. and are presently living in Montana studying the country and people that he loves to paint.
www.donoelzeart.com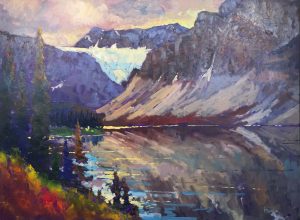 "Painting is all about passion," declares Neil Patterson. "If you respond to the passion that you have inside yourself, that's when the real painting comes out. Selling your work is a bonus; painting itself is what really matters." It is his ability to paint feelings rather than merely replicating what he sees that makes Patterson's vibrant, impressionistic oils so appealing.
Born and raised in Moose Jaw, Saskatchewan Patterson has always wanted to become an artist. His mother encouraged him as a young child, saying, "You can have whatever you want. If you want it enough, you'll get it." However, there were no galleries in the tiny Canadian community, so young Patterson had little exposure to original works until he visited his aunt in Ottawa when he was 12. She took him to the National Art Gallery where his burning desire to become an artist was rekindled. Young Patterson bought a book titled How to Paint and remembers reading it on the train back to Moose Jaw.
Patterson emphasizes that colour, not subject, is the true essence of his paintings. Not limited to a single genre, he moves from landscapes to floral works to wildlife paintings and figures with an easy grace. Patterson relies on an impressionistic Alla Prima style. "I used to work from photographs, but over the years I've learned not to do that," he says. "When I see a sky, I like to put that in my visual memory bank, and on another day I might add an appealing cluster of trees or an intriguing bend in the river. As I paint I simply add a mountain or plant a tree in order to create a scene that pleases me visually. The final composition becomes a composite of many impressions in my memory. Each of us remembers things in a certain way that is our own reality. I paint things the way I remember them, perhaps not exactly as they are."
Elected to membership in the prestigious group of intellectuals and artists known as the Salmagundi Club of New York, Patterson is also the first Canadian to become a signature member of Oil Painters of America. Neil become OPA Master Signature Member in 2001. Patterson also holds memberships in the Rocky Mountain Plein Air Painters, the Tucson Plein Air Painters, and the Laguna Plein Air Painters Association. As a board member of the OPA since 2002, Patterson has served as Co-Chair of Exhibitions, Juror of Awards, and Signature Advisory Board Chair. In 2006 he was elected Vice President of OPA.
Patterson has numerous awards to his credit and has been published in many books, newspapers and magazines including The Best of Flower Painting, International Artist Magazine, Art of the West and The Artist's Magazine. His bright impressionistic scenes have found enthusiastic audiences in Canada, the United States, and most recently in China.
https://www.neilpattersonopamaster.com/
The spring of 1997 brought with it a new challenge to sculpt wildlife, to be cast in bronze. His understanding of nature, and the anatomy of wildlife, is evident in the life that he captures in each bronze sculpture. Sculpted subjects such as the Golden Eagle, North American wildlife, the Western Rodeo Series, the Lab Puppy Series, the impressionist Series of Creation, and his whimsical bronze pieces that bring a smile, demonstrate the versatility of this award-winning Canadian wildlife bronze artist.
His art work is original, and appealing to a wide range of art lovers. It can be found in cooperate and private collections around the world and is displayed in fine art galleries throughout western Canada and the United States. Reg Parsons resides in Cranbrook, BC, and was commissioned by the City in 2007 to sculpt a monument of a sow grizzly and her two cubs, "On Donely Slide," for the Cranbrook Airport. His bronze sculptures, and their often clever titles are in keeping with his personal nature: a love of wildlife all his life, precise adherence to minute detail, joy in the beauty and power of creation, and the humble appreciation of his talent and good fortune to be doing something he loves.
www.regparsonsart.com
From her home outside of Lacombe, Alberta, internationally recognized and award winning artist Kim Penner spends her days cultivating her art and raising her family.
Raised in Morden, Manitoba, Kim developed a genuine interest and appreciation for horses at an early age. Having owned horses since the age of 10, Kim has steadily developed a close connection with the subjects she adores so much and with whom she spends so much of her time. Through the encouragement and support of her parents, Kim entered her renderings into local fairs and art festivals, establishing a reputation at an early age as a budding prodigy, capable of mastering the artistic interaction between observations, representation and reality. She would later go on to graduate from the University of Manitoba with degrees in both Fine Arts and Education.
By mastering an artistic form of hyperrealism, Kim has proven her proficiency in the realm of art, nature and all things equine that is not easily rivaled. Whether her subjects are wild or domesticated her research has taken her all across the North-American landscape, experiencing all the topography of this grand and diverse continent ensuring she is always within the vanguard of her artistic field.
www.kimpenner.com
1944-2018
Murray Phillips looks like an artist. With a long beard, long hair and comfortable attire, he is quiet and thoughtful by nature. Although he has been painting for 40 years, most of Murray's life has been lived in the halls of academia. He holds graduate degrees in both Theology and Cultural Anthropology. For over 20 years he has taught in a variety of colleges and universities. His interests are many, including classical guitar, snowshoeing, canoeing and sailing -- but an abiding love has been his desire to paint. In his own words: "There is an intense urgency to paint, as if something important needs to be said, and I can only say it with brush and canvas." Murray has a strong desire to express the spiritual in his paintings. Much of his work centers on the western wilderness of North America, particularly Alberta and British Columbia. He spends a great deal of time in the backwoods and remote areas where he both paints and photographs a variety of scenes and subjects. "I feel most at home in the wilderness," Murray says. "I have several studios, but my favorites are my sailboat, my canoe or my camper, which enable me to transport my studio to the painting site."
www.murrayphillipsarts.com
Judie Popplewell (nee Vandezande)studied at the Alberta College of Art & Design through Continuing Education while at the same time, building her career in marketing and raising her family along with husband Jim.
She has experimented with different mediums, but oil is definitely her favorite. Favorite subjects are ranch scenes and heavy horses. Her keen sense of horse anatomy comes from spending a lifetime surrounded by these beaufiful animals. She also takes time to complete a few commissions of pets each year.
Judie and her husband developed and managed an equestrian facility called Sandpiper Stables in 1976. The facility housed 80 to 100 horses. They consider this the biggest challenge they ever faced and also the one that opened many doors to the future. Judie is an avid horsewoman having competed in eventing and hunter/jumper shows. She enjoys riding several times a week and enjoys just being with her horse, Abel.
Her work has been accepted in prestigious shows such as the Calgary Exhibition and Stampede Western Art Show, The American Academy of Equine Art in Lexington KY, the Toronto Royal Fair, Spruce Meadows Red Ribbon Agrium (Best of Shows 1997), the Edmonton Western Art and trappings Show and Harness Tracks of America. Her involvement in The Calgary Stampede Western Art Show has been career changing having participated in the show every year since 1995.
Her work can be found in many private and corporate collections.
www.judiepopplewell.com
Darcy was born in Alberta, Canada and spent her early childhood on a farm west of Granum in southern Alberta.
Darcy's farm background has led to her focusing primarily on Western art. Inspiration comes from brandings, cattle drives, rodeos and even sometimes while driving by a field on the highway, finding the story from the animals, day to day activities and gear of the working cowboy in the paintings that she creates. She works in oils, pastels, graphite and charcoal, and horses are a particular favorite of hers, including her horse, Holly.
Her paintings have been juried into the Western Showcase at the Calgary Stampede for a number of years, going back to 2007. In 2016 her work was juried into the America's Horse in Art Show and Sale in the AQHA Hall of Fame and Museum in Amarillo, Texas. Her work can be found in the Parks Canada collection and private collections in Canada, the United States and New Zealand.
Darcy has created art, in one form or another all her life. In 1982, she received a Bachelor of Education degree with Art and Special Education components. Over the years, Darcy has been able to add to her artistic knowledge through an eclectic variety of artists and teachers.
She is a member of the Cochrane Art Club and won the Cochrane Foundation Heritage Award in 2012.
Darcy is a supporter of the Empty Bowl Benefit for the Calgary Food Bank and has donated a painted bowl for auction since 2010. As well, she has been honoured to provide original oil paintings for the STARS Air Ambulance Fundraiser Auctions since 2013.
Darcy lives in Calgary with her husband Larry.
www.darcypresiloski.com
Contemporary Italian artist Lorenzo Quinn is a leading figurative sculptor whose work is inspired by such masters as Michelangelo, Bernini and Rodin. Exhibited internationally, his monumental public art and smaller, more intimate pieces transmit his passion for eternal values and authentic emotions. He is best known for expressive recreations of human hands.
Born on 7th May 1966 in Rome to the Oscar Award winning Mexican American actor Anthony Quinn and his second wife, costume designer Iolanda Addolori, Quinn's childhood was split between Italy and the United States. His father had a profound influence on him, both in terms of living in the limelight of the film world and with respect to Anthony's early work in painting and sculpting architecture.
Quinn graduated from New York University in '88 and studied at the American Academy of Fine Arts in New York. He vividly recalls the moment in 1989 when he felt that he had created his first genuine work of art: 'I had made a torso from Michelangelo's drawing of Adam… an artisan's job … I had an idea and began chiselling away, and Eve came out of Adam's body… It had started as a purely academic exercise, yet it had become an artwork.'
Quinn's work appears in many private collections throughout the world and has been exhibited internationally throughout the past two decades. The Vatican engaged him to sculpt a likeness of St Anthony for the Basilica del Santo in Padua, in commemoration of the 800th anniversary of the saint's birth.
www.lorenzoquinn.com
(October 4, 1861 - December 26, 1909)
Frederic Sackrider Remington was an American painter, illustrator, sculptor, and writer who specialized in depictions of the Old American West, specifically concentrating on the last quarter of the 19th century American West and images of cowboys, American Indians, and the U.S. Cavalry.
Remington was born in Canton, New York in 1861 to Seth Pierrepont Remington and Clarissa Bascom Sackrider, whose family owned hardware stores and emigrated from Alsace-Lorraine in the early 1700's. Remington's father was a colonel in the Civil War whose family arrived in the United States from England in 1637. He was a newspaper editor and postmaster, and the family was active in local politics and staunchly Republican. One of Remington's great grandfathers, Samuel Bascom, was a saddle maker by trade, and the Remingtons were fine horsemen. Frederic Remington was related by family bloodlines to Indian portrait artist George Catlin and cowboy sculptor Earl W. Bascom.
www.frederic-remington.org
Born in Pincher Creek, Alberta,Canada, in 1951, Jack Rigaux studied at the Banff School of Fine Arts in 1967, then received a diploma in Painting and Drawing from the Alberta College of Art in 1974. Since then he has been working as a practising Artist and teacher in Calgary, Alberta, Canada
1970-1974 The Alberta Culture Award
1973 Hugh Jordan Award for painting
1984 Purchase Award for Sunshine Village
Born and raised in southern Alberta in a ranching and polo family. He is a third generation polo player, but his main passion is working cattle in the old time tradition from the back of a good horse. He raises and trains a few thoroughbreds for polo and ranch work. To date, he has completed 3 life-size or larger bronze sculptures, and is currently working on a fourth: 2 standings figures, one and a half life-size, of the explorer David Thompson and his Meti wife. The first 3 large ones are: ìICU BRONC TWISTERî monument on the Calgary Stampede grounds. The second is ìA QUESTION OF SURVIVALî, standing at the Bar U Ranch National Historic Site near Longview, Alberta. The third is a life-size polo horse , ìSHE GAVE HER BESTî, standing at the Empire Polo Club in Indio, California. Rich does lots of work for various polo clubs in the USA and Canada. He has also done several of the awards and trophies for the World Professional Chuckwagon Association , and the Calgary Stampede, as well as for many corporations. His bronzes are in collections around the world, from Price Charles to Sylvester Stallone.
www.richroenisch.com
Jan's love of horses was instilled early. She spent her childhood in California where her father was a teacher at Caltech. Artwork for Jan began in youth as pencil drawings but over time she progressed from pencil to pen and ink to watercolour and finally to oils. She attended Prescott College in Arizona majoring in scientific illustration and photography under western photographer Jay Dusard. After graduation she moved to Jackson Hole WY to work on a two-girl crew in the backcountry and wilderness area. Jan returned to California where she was hired to work as a groom for a polo player's 12 horses and a mule. There she met her husband sculptor Rich Roenisch and in 1980 moved to his native Alberta. Jan also works in bronze creating her own sculptures and also aids Rich in many stages of his bronze works. Her skill in this area is focused from January through March when the Roenischs produce in excess of 140 bronze polo trophies.
My earliest memories of the landscape are as a young child, standing with my father on the banks of the South Saskatchewan River, gazing out at the steep riverbank on the far shore and at the powerful, moving river. We went there often in the evening to give our Springer Spaniel a cool swim. When I began to paint the landscape I was immediately drawn to the riverbank and surrounding fields and to the memories of my childhood there.
My watercolours are always painted out of doors with direct reference to the landscape and so reflect the changes of the season, the time of day, the weather and other changes. I return often to places that interest me and find that there is infinite variation there and something new to observe every time I return to paint. I have been very fortunate to have also been able to make painting trips to Emma Lake, the foothills and mountains of southern Alberta, Riding Mountain National Park, the hills of the South of France, Banderas Bay in Puerto Vallarta, Mexico and now I have been living in Vancouver where I can paint at the seaside year-round.
My interest in studio painting has been in painting large. The scale of the paintings offers many interesting challenges and the opportunity to create a physical space where viewers can almost stand in the landscape with me. I only paint the studio pieces of scenes where I have painted watercolours and try to convey in the larger piece the same sense of place that I experienced while painting directly from the landscape.
I have been most inspired in my painting practice by my friend and teacher, Reta Cowley, with whom I painted and conversed on many occasions. Reta offered the most pure approach to artmaking. I am also greatly indebted to the quintessential landscape painter, Dorothy Knowles, for her encouragement and generosity in sharing the process and magic of painting with me.
The endless vistas of the Pacific Ocean and surrounding coastal mountains intrigue me. I am so looking forward to my next painting excursion.
https://www.rougegallery.ca/agnes-ruest
1915-1984
Margaret Shelton loved spending time in Banff National Park. She created watercolors, oils, and lino-block prints, which still give us pleasure as well as an understanding of her incredible skill as an artist.
Margaret's works in our gallery are wide ranging in their media: watercolors, oils, and block prints (linocuts and woodcuts). Some pieces date from the 1930s and we have striking images from the 1970s and 80s. The wide range of imagery shows Margaret's insatiable desire to travel and record that travel with her artwork. They also indicate Margaret's concern with technique; she searched for appropriate means to communicate what she saw. Not only are there images from here in Banff, but also we can see high alpine areas from Yoho and Jasper, between Banff and Calgary, and a few rare images of the Red Deer River / Drumhellar areas
Karl Skaret was born Jan. 11, 1966. He grew up on a farm near Camrose, Alberta. He studied art at Red Deer College and at the Alberta College of Art . He found his way back to the farm and got involved in the cattle business with his brother. The natural beauty of his surroundings resulted in many landscape paintings. The sky is always prominent in his landscape paintings. Karl got out of the cattle business a few years ago, and now that he is less directly under the influence of the countryside, his interest in abstract art has found the power to be expressed. Whether painting representationally or abstractly, Karl strives for sensuality, vibrancy, and enchantment in his paintings.
www.karlskaret.com
Jody Skinner is a self-taught Western artist living and painting in Calgary, Alberta. A native Albertan, Skinner originally pursued a career in accounting after graduating from the University of Alberta in 1987 with degrees in Mathematics and Business. In 1991, Skinner began painting scenes of western horse life with chalk pastels.Skinner adopted the western horse life as the major theme for her work due to the love of horses she developed as a child. Skinner's passion for horses can be attributed to the time she spent on her family's horse ranch in the foothills of the Rocky Mountains.
As Skinner's work progressed she began working with oils on oversized canvases. Skinner now works exclusively with oils on linen, applying the oils with palette knives. This combination provides a lot of texture to the paintings, which Skinner believes conveys more feeling.
Skinner began exhibiting her work at the Calgary Stampede in 1993 at the Western Art Auction and then in 1998 as an artist in the Calgary Western Art Salons. Subsequently she has participated in both the Calgary Stampede Western Art Auction and Western Art Salons every year since.
www.jodyskinner.com
Scott Stuart is an inspired and versatile artist, who has turned from a career in architecture to fine arts. Working primarily in pencil his work is known for its realistic detail and rich depth of tone. Prior to earning a diploma in Architectural Engineering and a degree in Architecture from Montana State University he grew up in rural Saskatchewan. After completing university, he returned to Saskatchewan, where in an effort to pay for loans he worked for his brother hauling cattle throughout Canada and the United States. After living in a Peterbuilt for a year he relocated to Calgary, Alberta to put his education to use in an architectural firm. While working in the firm he began to participate in art shows and exhibiting his work. After five years in an office he felt it was time for a change and new challenges, so he left to prepare for his fall exhibitions and shows. After the shows he decided to see if he would be juried into the prestigious Artist Showcase at the Calgary Stampede and with a little faith was accepted and hasn't looked back. Since that time he has been fortunate to follow his passion and participate in great western art shows, travelling throughout Canada and the United States.
Linda was born in 1950 and grew up riding horses. Her artistic talents became evident at a very early age. She has been sculpting since 1979 and is well known for the subject matter she chooses - cowboys, horses, and dogs in typical ranch settings and wildlife. Linda and her husband owned and operated their own foundry "Canyon Art Casting" for six years which helped her to understand all phases of the casting process, thereby enabling her to collaborate with foundries to get the desired effects on her sculptures which help make them unique.
Linda and her family currently reside in the historical town of Fort Macleod which was founded in 1874 with the arrival of the North West Mounted Police and is located at a crossroads that once hosted Indian encampments, wagon trails and buffalo grazing grounds.
www.lindastewart.ca
An artist with a quirky brush, and an eye for the surreal, K. Neil Swanson seeks the sublime within the obvious. Neil's embrace of colour celebrates the grace and sanctity of the landscapes, and the life forces within. Dark shadows fall beside the brilliance of a mountainside in winter, predator and prey change place and shape. Night and day often co-exist in the same painting, the space between them almost imperceptible. Constantly evolving, Neil expresses himself by exploring our relationship with nature, and in essence, ourselves.
When asked to explain his art, it is a surprise to find out many works start as stories. Neil often sees an image when out and about on the water, or on a hike, and a story grows from there. His work begins on a black background, rather than white. The reason is that the subjects are partially reborn from the memories of growing up near the forest. Neil says, "I battle the black, and sometimes I don't win, the black does. Things can get lost in it, but I love the depth of the colours layered on. I pretty much go over every painting three times. The first layer puts down the foundation, the next for getting the coverage, and depth of colour, the last to highlight. It's a process that takes some time."
Symbolism is another factor in his painting, present, future. "Where we have been, shows us where the world is headed. I see a shadow world representing the hidden elements of the natural world, a world that seems forgotten by the human race, but a world all wild creatures instinctively regard. The moon in the trees, for example, is there to unite the earth and sky. The red earth is the energy of the universe pouring down on us, a warm blanket of power beneath our feet. It cleans the slate, whenever I head out on the water, or hike in the forest, it just gives me a new perspective on everything. Slowing down to listen to the stories I hear there, and relating that on canvas is the next step in my own creative process."
He was chosen "Best New Artist" at the 2004 Calgary Stampede & Exhibition Art Show. Neil was also honoured to be the Windermere Valley Mapbook cover artist in 2003 and 2005.
www.knswansonart.com
With her lens, Kim has been capturing the beauty and the reality of the west for almost twenty years. Mentored by John McQuarrie and Ian McMurchie, Kim has produced award winning images throughout her career. Her work has been on the cover of Western Horseman, as well as in American Cowboy, Canadian Cowboy, Western Horse Review, and Legion magazines. She is the co-photographer of two coffee table books: The Palliser Triangle and Western Stock Growers Centennial Cattle Drive. Kim has self-published a successful day planner for over fifteen years, and also publishes corporate calendars for 45 companies. Her giclee fine prints are in private collections around the world, and her work is used on the set of the Heartland television series. One look at Kim's work will tell you she understands her subject matter. She understands it because it's always been part of her life. While Kim currently lives in the foothills of southern Alberta, she grew up on the prairies of southwestern Saskatchewan, and her love of the open prairie sky is evident in her work. Her work hinges around the solitary image of the cowboy. The Rockies are often a backdrop, and her photos are invariably taken on one of the many working ranches of Western Canada. But her images are more than mere landscapes. They do more than document our western heritage. They whisper – of the breeze in the grass, the sound of the trees, the smell of a horse, the cold, the wet, the dust, the heat, all the things that make you feel alive, if you are lucky enough to be there with her. And if you're not so lucky, then Kim's work will let you feel as though you were.
www.kimtaylor.com
Sam is an award-winning, self-taught, world-class artist who lives and creates his highly collectable pieces of art in one of North America's most peaceful and serene places: Paradise Valley, Montana.
There aren't many artists in the country today whose career, reputation and collectability are soaring as quickly as Sam Anton Terakedis'. He has received numerous Best of Show Awards — most recently at one of the world's biggest juried arts shows: The Calgary Stampede — where he was awarded "Best New Artist." Sam was recently honored by the Montana Governor's Cultural Foundation to exhibit his work at the State Capitol. His art is exhibited in galleries across the Western United States, Canada and Europe. Additionally, his works are a part of impressive private collections around the world.
www.terakedis.com
David Thauberger is known for his paintings of the vernacular architecture and cultural icons of Saskatchewan. Together with his paintings of popular culture and postcard images of tourist meccas far and wide, his images of Saskatchewan are articlate debates involving art, culture, and how we view our world, presenting a hyper-real picture of our context that transcends regionalism while capturing the heart of what it means to be from Saskatchewan.
Thauberger's achievements were recognized recently when he was awarded the Saskatchewan Order of Merit. He was invested as a Member of the Order of Canada in 2008, is a recipient of the Queen's Diamond Medal in 2012, the Lieutenant Governor's Saskatchewan Artist Award in 2009 and is member of the Royal Canadian Academy of Arts. When named as a Member of the Order of Canada, he was cited for his contributions to "the promotion and preservation of Canadian heritage and folk art in the province of Saskatchewan, in addition to his work as a painter, sculptor and educator."
Thauberger has become known as an iconoclastic artist, creating colourful portraits of vernacular prairie buildings, legion halls, quonset huts, false fronted shops and inner-city bungalows.
David Thauberger was born in Holdfast. He studied ceramics at the University of Saskatchewan, Regina Campus, where ceramic sculptor David Gilhooly served as an early mentor, inspiring Thauberger and others to create art that was rooted in their own life experience and their own geographical region. He earned his BFA in 1971 and his MA in 1972 from California State University (Sacramento). He then studied with Rudy Autio at the University of Montana in Missoula, earning his MFA in 1973.
www.davidthauberger.com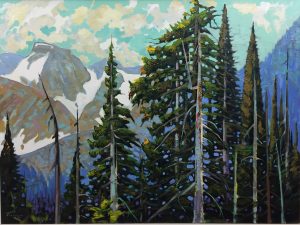 1940 - 2017
Bill Townsend wanted to be an artist when he was six years old. At the age of 40, he walked away from a high paying executive job to fulfill his dream. He hasn't looked back since. Townsend's paintings in oil have a way of recognizing natures tangle of life into powerful structures on canvas. Although primarily self-taught, Townsend received his early art training at the Vancouver School of Art and the New York School of Design in Manhattan.
Bill's creativity and drive also allowed him a thriving corporate career in marketing, advertising, and communications until one day in 1980, at the age of forty, he decided to pursue his passion for art full time and traded in his three-piece suit for his easel, never looking back.
Moving to Nanoose Bay on Vancouver Island, and eventually retiring up the road at French Creek, Bill's career as an internationally acclaimed Canadian artist has proven an extremely successful one. His works have been shown in galleries across Canada, the United States, and Europe, and can be found today in corporate and private collections around the world.
Douglas was born on December 5, 1946 on a ranch at Westbridge, B.C., in the Kettle Valley region.
He got hooked on art because from a young age his grandfather taught him about it, and Tucker lived the life his grandfather couldn't.
Tucker went to an art instruction class at age 20 but other than that he is self-taught.
Born in Winnipeg, Manitoba, Canada in 1960, Paul moved with his family to Calgary, Alberta in 1973. In search of change and new stimulation he then moved to Vancouver, B.C. in 1996, however, returned to Calgary in 2001. Prior to earning a Master of Fine Arts degree from Syracuse University in New York, Paul was educated at the Alberta College of Art in Calgary. After working for the Calgary Herald newspaper as an editorial illustrator (as well as a freelance commercial illustrator) for 6 years, he's been a fine art painter since 1990. Part of Paul's growth as an artist has come from extended painting (and research) trips to major art centres including New York, Italy, Santa Fe, Mexico and Australia. He also continues to travel the globe in search of new artistic stimulation while expanding his vast archive of photographic reference material. An example of one of these trips was travelling to Seville and Madrid, Spain, to research Flamenco culture in preparation for a new series of paintings.
Articles on Paul's art have been published in numerous major magazines and newspapers (including a cover feature story in Southwest Art Magazine). He's also been honoured with many distinctions and awards including a finalist for a 2013 Calgary Stampede Legacy Award and being selected by Fresco Fine Art Publishers (Albuquerque, New Mexico) as one of the top Western artists working today (a hard cover book was published, titled "Western Traditions – Contemporary Artists of the American West"). He's also received numerous prestigious commissions including being the first "fine artist" selected to paint the annual Calgary Stampede poster in 2006, considered the pinnacle of Western art. Part of the commission included having the original painting sold at the Stampede auction. This new Stampede poster tradition continues to this day.
www.paulvanginkel.com
Dennis Joseph Weber was born in Prince Albert, Saskatchewan in 1951 and then raised in Calgary, Alberta. He feels his mother's Métis heritage contributed to the development of his art and continues to influence it. The fascinating story of the Métis Nation's 17th century origins, through to it's official Canadian recognition in the 20th, could be told through Dennis' ancestors. Louis Riel, Canada's most renowned Métis (and Dennis' first cousin five generations removed), was not only instrumental in the creation of Manitoba, but also a poet, visionary and ultimately a martyr. He stated in 1885, the year of his death:
"My People will sleep for one hundred years. When they awaken, it will be the artists who give them back their spirit."
It was, in fact, about a century after Riel's prediction that Dennis started to explore the possibility of becoming an artist full-time. Since then, he's achieved not only that, but for helping to revive his culture, is now considered one of Canada's foremost Métis artists.
In 1999 Dennis moved to Kelowna, BC and still works out of his home studio. His mastery of the media he uses (oil, pastel, pencil, charcoal or colored pencil) is due in part to his glazing technique, one of many skills he employs. Dennis has achieved accreditation in both the Federation of Canadian Artists (SFCA) and the Canadian Institute of Portrait Artists (CIPA, Fellow). For a complete list of awards and commissions scroll down to his CV. His demonstrations and adult workshops are much in demand but he also finds time to mentor children for the Metis Community Services Society of BC and teach Aboriginal children in Kelowna's School District 23.
www.webergallery.com
As a boy Al Weitzel spent many days on the banks of the North Saskatchewan River, often with a sketchbook in hand, sketching the birds and plants. As a teen his interests shifted to comic book art and for a time he filled his drawing books with superheroes. But while attending university to study fine art he found that most of those who shared his interests anticipated very moderate lifestyles at best. He met so few people involved in art who believed it to be a viable way to make a living that he rapidly became very discouraged and soon traded in his dream for more conventional employment. Then, in 1994, Al learned of a material called scratchboard. This largely overlooked art medium has changed his life quite a bit since then.
He soon began entering his work into local, provincial and national competitions and despite confusion about his media and technique he took home numerous ribbons. Demonstrating his techniques in public also created quite a stir, as people were able to see his creations grow out of the black background of the scratchboard. As a result his images began to sell and a reawakened life-long dream began to be realized.
Al's remarkably detailed and lifelike works have inspired hundreds of other artists, both professional and amateur, to try their hand at this unique and exciting art medium. His Scratchboard Workshop Kit, designed as a learn-at-home version of his popular introduction to scratchboard workshop, has created a legion of new artists and crafters who enjoy the challenges and rewards of scratchboard. He spends much of his time in schools throughout Saskatchewan, sharing his knowledge of art with students and teachers. He has won over a dozen awards in provincial and national art competitions and has been asked to judge several Western Canadian art competitions. Through donations to charitable events his works have raised thousand of dollars to protect wildlife and to feed, clothe and educate the underprivileged.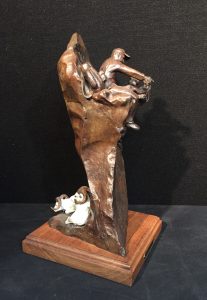 Most of my life has been spent within the working ranch community of Southern Alberta. My husband and I live and work on the family ranch near Chain Lakes where I grew up. The people and animals of this colorful world have offered us a constant source of inspiration and limitless opportunity for artistic expression. Many of my subjects are depictions of events and individuals I have known personally. Horses have played a huge part in my life and I never tire of sculpting them in all their majesty.
The wild animals with which we share our ranch home are equally inspirational. I have also been very privileged to travel to some wonderful places and the wild creatures that I have seen there have challenged me to speak their story, of survival, of conservation and the courageous people who commit to them and also simply to share the beauty of wild things.
Recently, I have partnered with a good friend and created a long-time dream of a studio/gallery. We have a lovely space in Longview, Alberta where I have a working studio and a place to showcase my art.
www.anchorbarbronze.com
Marla Wilson traces her love of nature to her childhood, when she would often go for long hikes among the hills behind her family's home in Mountain Park, Alberta. The joy and wonder of those times prompted the development of her artistic talent, enabling her to share the natural treasures that she found during these walks through her exquisitely rendered wildlife and landscape paintings.
A well-schooled artist, Marla started taking art classes at age six. Her mother Rona spent the next ten years driving her to & from art schools. Providing not only the transportation, but also the encouragement and funding, Marla's mother was truly instrumental in the direction that this talented artist took with her career. Marla continued her formal art education with sculpture & advanced drawing classes at the University of Alberta.
Marla paints with dedication and commitment to authenticity. She loves her subject, and has diligently studied animal anatomy, plant life and landscape. She has worked in various media, but has found that acrylics and oils best suit her subject and technique. Working on one image at a time, it can take several months of long working days to complete a painting. The results are much sought after by public galleries and private collectors.
Marla Wilson's work has received world wide recognition. Her work is found in private & corporate collections in Japan, Peru, Bahrain, England, Wales, Chile, the United States and Canada. Recently, her image "Western Prairie" was awarded "Jurors' Choice for Best New Artist" at the 2003 Calgary Stampede Western Art Auction.
While wildlife has traditionally comprised a large portion of Marla's works, she has recently been creating a number of paintings of Western Canada landscapes. These dynamic images are proving to be very popular amongst collectors of both originals and limited edition works.
Mathew was born in Hong Kong in 1954 and attended English school there. He is a self-taught artist and at one point in his career owned his own gallery in Hong Kong where he sold many of his oil paintings and Chinese watercolours to tourists from all over the world. In the 1970s, he moved to Canada and lived in Vancouver for a few years, showing his work in galleries and at art shows throughout British Columbia.
In 1976, he moved to Calgary and joined Great Western Artists: a group that travelled Western Canada. In 1982, he joined another art group — The World of Art International — and travelled all over the country of Canada. Mathew has been a well-known and highly respected artist in the Calgary area for many years and is known for his wonderful landscapes. His mountain scenes capture not only the beauty and majesty but also the true feeling of the mountains, making you feel like you could step into it; like you are there.
Artist statement: "Painting is a pictorial language. An artist's work is his own way of writing. I attempt to express myself by presenting a thought, an idea or a concept when I paint. Every day I have a feeling for what I see. My subject matter is nature. It is the common things we see in our daily lives which reflect the mind's eye rather than a physical eye. One needs a changing vision of everyday life, and through knowledge of the work of masters — past and present — I attempt to create lasting beauty in my paintings."
www.stephenlowegallery.ca
Robert was born in North Vancouver, B.C. in 1971, and currently resides in Calgary, Alberta. He has been painting full time since 1989, and his career follows over 70 years of professional art in his family. His grandfather was Robert E. Wood and his father was Karl E. Wood - with whom he spent eight months training. This was followed by study with several other top artists, including Harold L. Lyon, and years of personal artistic exploration and development. Robert has been surrounded by art his entire life and took to it from his earliest years, when his grandfather called him "the little painter".
Adept at portraying a wide variety of subject matter, Robert enjoys painting them all… the mountains, canyons, lakes, rivers and forests of the Rocky Mountains, sunsets, old cabins and barns of the West, the Okanagan, and a variety of still-life and floral scenes. Whether capturing the heat of the desert sun near Osoyoos in July, or the cold of a –30 January morning in Alberta's Ghost River Valley, his paintings sing with color and always depict scenes he is dramatically inspired by.
The experience of painting is something which Robert believes should be shared, so he regularly conducts art workshops and demonstrations for other artists. Robert is pleased to note that two artists he has assisted in the fine art of oil painting are now showing their work professionally - David Ross, and Robert's brother, James Wood. Their paintings can be seen at the Gainsborough Galleries.
Robert also enjoys working on location, plein air painting, which helps his images achieve a sense of true light and life. Plein air painting is an exciting and challenging experience and Robert is always looking forward to the next opportunity to work outside. He extensively travels and explores his favourite regions of Alberta and British Columbia - these include the Kananaskis and Banff National Park regions of the Rockies, as well as the south Okanagan. As well as painting on site, Robert takes large numbers of photographs to use as reference material for his studio paintings. His visual library consists of some 50,000 slides and photographs which are always on hand to inspire future paintings.
Robert Wood's love of the Western Canadian landscape is a never-ending source of inspiration. His mission is to present the beauty, power and grandeur of this varied land as he sees it – in all its colour, contrast and glory – for the enjoyment of others.
www.robertewood.ca
Recognized primarily as a landscape and flower painter, William Thomas Wood was born in Ipswich, Suffolk in 1877. He received his formal art education at the Regent Street Polytechnic and in Italy.
In 1900, at the age of 23, he was living in Putney and exhibited his first work at the Royal Academy entitled Summer Heat. From 1900 – 1947 he exhibited more than 55 works at the Royal Academy including February Flowers (1925), Corfe Castle (1926), Snow Shadows (1930), Cottage Garden Flowers (1933) and Morning Light (1947). In 1918 Wood was appointed the British official war artist for the Balkans.
Wood lived most of his life in London, and exhibited frequently. His work was extremely popular during his lifetime and he had a number of one-man shows at the Leicester Galleries as well as receiving nine official public purchases. He was elected an Associate to the Royal Watercolor Society (R.W.S.) in 1913, and became a full member in 1918. Largely as a result of his war experience, A.J. Mann hired Wood in 1920 to illustrate The Salonika Front. He served as Vice President of the R.W.S. from 1923-1926 and became a member of the Royal Institute of Oil Painters (R.O.I.) in 1927. He died on June 2nd 1958.
Works by William T. Wood may be seen in the Victoria and Albert Museum, as well as the museums in Hull, Leeds, Manche­st­er and Perth.
A graduate of the Alberta College of Art, John began full time painting after twenty years in graphic art and advertising management.
Experimenting extensively in oils and acrylics, he chose the more difficult and challenging watercolor as his primary medium. John has mastered a combination of fine detail and the very rich tones reminiscent of the renaissance period of the old masters.
Born and raised on the prairies, his love of family gatherings with music, good home cooking, and scouring the landscape with his faithful dog by his side, has formed the basis of his love for nostalgic themes in his still life works. "I derive great satisfaction from painting nostalgic treasures that have emotional and personal significance to my clients" John has spent the past 20 plus years honing his skills as a fine artist. His main focus has been still life, musical, classical themes, western and landscape, in his own unique style,
John was inducted into the artist group "West Guild" as a master artist and founding member, in a ceremony held at the prestigious Hyatt Regency Hotel, in downtown Calgary. Alberta, in 2011.
John has participated in many juried shows and has had numerous sold out status exhibitions.
www.picturethisgallery.com
Michele grew up living and traveling extensively throughout the United States and Canada. Her interest in art started at an early age, winning her first art competition at age six. After settling in Canada in 1988, Michele devoted herself to painting professionally.
Michele's love for the rich culture and heritage of the Northern Plains is evident in her work. Research in libraries and archives as well as personal experiences ensure her paintings are accurate. Her favorite subject is the Plains Indian. Michele finds their culture, artifacts and spirituality fascinating. She discovers endless subjects with the mystery, symbols, color and tradition of the First Nations people.
In addition, Zarb particularly enjoys observing and painting the antics and beauty of the birds around her home, especially the members of the Corvid family (ravens, crows, jays, etc.). She finds they reflect many of the same attributes as our human families, and their social interaction gives her countless hours of entertainment.
Beyond technical ability, Michele feels an artist's biggest challenge is to evoke emotion. To capture a fleeting moment or mood, involving the viewer in more than a photographic translation. Her experimentation with various techniques and media keeps the work fresh and exciting, as well as allowing her to constantly grow as an artist.
Michele's work has been accepted in international competitions in Canada and the United States. She has been elected membership in various art organizations throughout North America. She was the only artist in Canada accepted to the Cowboy Artists of America Workshop in Bozeman, Montana. Michele was also selected to design the 2004 Stampede Western Art Show collector pin. In 2007, Zarb had the distinction and honor of being named the Feature Artist for the Calgary Stampede and Exhibition.
Michele's work can be found in private and corporate collections throughout the United States, Canada, Switzerland, Germany, the Middle East and Japan. Some of Michele's collectors include Hyatt Hotels Calgary; ABC News, Washington, D.C.;Nova Corporation; Virgin Records, NY, NY; and Lenny Kravitz, Musician.
Vilem Zach was born on October 23, 1946 in Prague, Czech Republic. Seeking life away from communist rule, he left his homeland in 1969. Once in Canada, Vilem was able to transform his childhood passion of art into a full-time profession, realizing his dream of painting the North American Indian and their culture.
With each pastel portrait, he strives for a high standard of accuracy and feeling. His work also consists of candid, yet detailed portraits of the western heritage. By 1978, Vilem became more established with his portraiture works.
He began exploration with sculpting pieces to be cast in bronze, a medium for which he is now internationally recognized. Currently residing in Calgary, Alberta, Vilem has exhibited with the world famous Calgary Exhibition and Stampede for the last 18 years. Many of his life size statues and heroic size monuments can be seen at numerous tourist attractions and in private collections, as seen in this catalog.
www.vilemzach.com
Born in the Vulcan area, ginger (Vera Ann) Webster was introduced to art by the Free Press Prairie Farmer drawing and coloring contests. After attending school in rural Alberta, she completed her High School in Coaldale, AB and with the help of a scholarship attended the U. of A.
She spends most of her free time capturing the beauty of the natural world around her. she has worked with several media, but finds the fast drying acrylic to be her media of choice. Ginger has not obtained any formal art training but has worked hard to achieve the high standard that is displayed in her art.